14 May
MOBIL 1 AUSTRALIAN PRODUCTION CARS CHAMPIONSHIP ROARS INTO LIFE
Round one of the 2023 Mobil 1 Australian Production Cars has played host to plenty of exciting racing over four x 30-minute sprint races at Phillip Island this weekend in a combined grid with Monochrome GT4 Australia.
At the conclusion of Sunday's final two races, it was Grant Sherrin (#27 Sherrin Rentals BMW M4) who took out both the APC outright and Class X victories, sharing the outright podium with A2 winners Coleby Cowham and Lindsay Kearns (#25 TyrePlus Burleigh Ford Mustang) and X-class runner-up, Iain Sherrin (#72 Sherrin Rentals BMW M4).
Third for class X overall were father and son, Tim and Jack Sipp (#40 Speedcafe.com. BMW M4), while Cowham and Kearns shared the A2 podium with Andrew and George Miedecke (#95 Andrew Miedecke Ford Mustang) and Chris Lillis (#64 Cachet Homes HSV Clubsport).
The A1 class win was taken out by Dean Campbell and Cameron Crick (#118 DA Campbell Transport Mitsubishi Evo X), with Paul Buccini (#71 Team Buccini Racing BMW M140i) second for the round. Reigning Class D champions, Amar Sharma and Daniel Natoli, claimed third in class in their A1 debut, in the #39 Gtechniq/LME Care Audi TTRS.
The B1 class victory went to Scott Turner and Rob Rubis (#29 Fierce Racing BMW 135i) after a problematic weekend due to having the wrong engine map in the car, while the C class victory went to Tom Needham in the #34 All Carbitz Mazda 3 MPS, who clean-swept class C with four race victories. Second for Class C was reigning E Class champion, Allan Jarvis, who made his debut in C class this weekend with his #70 TOA57D Motorsport VW Polo GTi, while third place went to Justin Anthony in the #90 Rent4Race G20 330i.
Taking out the round honours in Class D and E were Liam Moyse (#97 GenFit Toyota 86) and Phil Alexander (#35 RaceAway Track Time Mazda 3 SP25) – with Alexander contesting all four races solo despite having originally planned to be joined by co-driver Shane Fowler, with Fowler unfortunately missing the event due to illness.
The opening race for APC this morning was the first race on the day's program, and was delayed due to heavy fog blanketing the circuit at the scheduled start time of 9.10am. Just before 10.00am the race was able to get underway, with plenty of action unfolding, including a hotly contested battle for the APC outright and Class X victory between brothers, Grant and Iain Sherrin.
At the conclusion of the shortened race which had its final stage controlled by a safety car for a stranded Monochrome GT4 Australia competitor, it was Iain Sherrin who took the APC and Class X win over Grant Sherrin, with Kearns third in APC and first for A2. A2 runner-up Lillis and A1 winner Crick rounded out the top five, crossing the line ahead of Jack Sipp (3rd for X) and Tony Levitt (#16 Levitt Motorsports Mercedes C63 AMG – 3rd for A2). George Miedecke (4th for A2), Chris Delfsma (#121 Century 21 Ford Mustang – 5th for A2) and Brian Callaghan (#37 Callaghan Concrete Pumps HSV VY GTS – 6th for A2) rounded out the top 10 for APC.
11th and 12th for APC were Trevor Symonds ((#666 Wollongong Auto Parts Holden VE GTS – 7th for A2) and Michael Rowell (#3 Rowell Logistics Ford Mustang – 8th for A2), while Tom Needham took the Class C win from 13th for APC and 18th overall.
Moyse and Rubis collected the D and B1 class wins, crossing the line 15th and 16th for APC but being elevated one spot each when Buccini (2nd for A1) was served with a five second post-race penalty. Jarvis and Anthony were also elevated one spot each and claimed 2nd and 3rd in Class C respectively.
Alexander claimed the E class win from 20th for APC, crossing the line behind Gunther ((#15 Wahlstrom Financial Services BMW E87 130i, sharing with Mitch Randall – 4th for C). Third for A1 in the race went to Hadrian Morrall (#9 Parramatta Vehicle Services Mitsubishi Evo X).
Striking trouble late in the race was Sharma with a problem with the front right tyre, however he was able to limp it home for a new tyre to resume the race in time to secure some valuable points with 4th in A1 and 22nd for APC, finishing ahead of Zoe Woods (#51 Lithostone Surfaces HSV Astra VRX, sharing with Chris Holdt – 5th for C).
In a frenetic fourth and final race of the weekend, Grant Sherrin again took the APC outright and Class X win, crossing the line ahead of Iain Sherrin (2nd for APC and Class X) and A2 race winner, George Miedecke.
Kearns and Delfsma (2nd and 3rd for A2 respectively) rounded out the top five. Levitt (4th for A2) was next on the road, but was dropped a position with a five second post-race penalty for overlapping on a safety car restart, with the A1 winning Campbell elevated one spot on the sheets as a result. Rounding out the top 10 for APC were Symonds (5th for A2), Rowell (6th for A2) and A1 runner-up, Morrall.
Needham took his fourth straight C class win from 11th in APC and 16th overall, crossing the line ahead of Buccini (3rd for A1), C class runner-up Anthony, and Mitch Randall (3rd for C).
Moyse took another D class victory from 15th for APC, ahead of Jarvis (4th for C), B1 winner Scott Turner, Callaghan (7th for A2), E Class winner Alexander, and Natoli (4th for A1). Callaghan ensured a dramatic finish to his race, taking a huge spin out of the last corner on the run to the checkered flag. He was thankfully able to regather his car to resume without any contact.
Failing to finish the final race today were Holdt, Lillis and Jack Sipp.
Holdt suffered a burst wastegate actuator line in the entry he shared with Woods this weekend, while Sipp and Lillis tangled for heavy damage for both cars at turn four on lap five of the race, with Sipp served a post-race penalty as a result.
Round two for the Mobil 1 Australian Production Cars and Monochrome GT4 Australia will be held at Sydney Motorsport Park across June 16-18. Entries for rounds two through six are available now. For entry forms, go to https://ausprodcars.com.au/entry-form/
For further information about the Mobil 1 Australian Production Cars and Monochrome GT4 Australia, contact Troy Williams on troy@ausprodcars.com.au or 0483 035 466 or visit www.ausprodcars.com.au
ROUND ONE – MOBIL 1 AUSTRALIAN PRODUCTION CARS – QUOTEBOARD
Grant Sherrin – APC outright and Class X winner – #27 Sherrin Rentals BMW M4
It was a good wekeend. We got a bit of rain on the dummy grid for the first race on Friday, but I was pretty happy with how the new car went in the wet. It was quite good and we did allright.The second race was a good race as well, and I was able to fight my way back to get first. This morning in the third race, with the cold weather and everything, the tyre pressures weren't up enough for the race and I was a bit slow off the mark. Iain was able to get the jump on me and then he raced really well. When I started coming back, he held me out for the win. It was a good battle with Iain, it was good fun with very close action. When my tyres started to come back on and catch him, it was really close racing and it was good fun, although I would have preferred to be on the other side of it! Thank you to our sponsors Wirtgen Group, Hi-Tec Oils, IPCQ, Custom Plastic Fabrication, Symmetry Engineering, Sherrin Group, Hydraulink, WS Welding Solutions, Action Mechanical Specialists, Great Whites and CEA.
Dean Campbell – A1 class winner with Cameron Crick in the #118 DA Campbell Transport Mitubishi Evo X
I feel very satisfied with that. I was a long year last year, so it was good to be able to start putting it together. The last race was really good, it was an exciting race. There was a lot of carnage throughout, but I managed to steer clear of it all and I was very happy to get the win. The weather in the first race suited our car, being an all wheel drive, and Cameron managed to drive himself to the front with quite a big gap, possibly 20 seconds on the next guys. He is a good young talent and we are going to be teamed up across the year. We have had a lot of success together, and just had a Six Hour Class win. I would like to make special mention of Matt Cook and Lauren Cook for the endless hard work and mechanical efforts they put into my car and my team. And also to our sponsors, DA Campbell Transport, Central West Bricks and MGC Heavy Mechanical.
Coleby Cowham and Lindsay Kearns – A2 class winner and 2nd outright for APC – #25 TyrePlus Burleigh Ford Mustang GT
Coleby: We are stoked. We came into this weekend thinking that a top five would be a pretty good result, so to end up second overall and first in class is well above what we expected, so we are wrapped. It was a good weekend and the weather was fantastic, which everyone keeps telling me is unheard of for Phillip Island, so that was great. The results were good and the car was reasonably fast. We kind of had to come up to the track and the car, and we learnt a bit towards the end of the weekend on how to make it better. Thank you to Ashley and Shane as well as the guys at TyrePlus Burleigh, Car Mods Australia and Exedy Australia.
Lindsay: I think the strategy of having Coleby in for the first two races put us in a good position for the rest of the weekend. It was good, and I feel like we made the right decision with the way we placed the drivers. It was good fun (winning race three) and we are looking forward to Sydney. We aren't thinking about championships yet, we are just fortunate to be here and participating and are taking each event as it comes.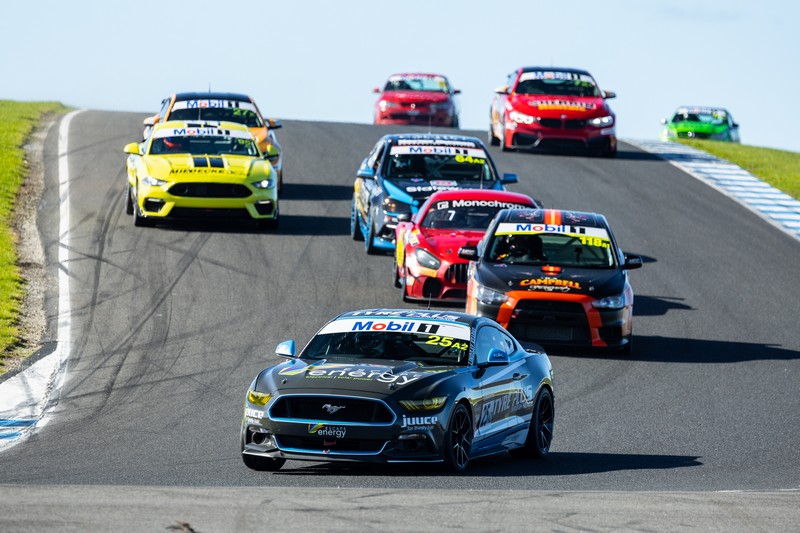 Scott Turner – B1 class winner with Rob Rubis – #29 Fierce Racing BMW 135i
We had a dreadful weekend with our engine having the wrong engine map in it, which meant we had virtually no horsepower. But we persevered and did all four races and finished up with an undamaged car and some championship points. We will go back to the drawing board now and get the engine mapping fixed up, and away we will go. Thank you to Mackay Goodwin and Lloyd's Auctioneers and Valuers. We are looking forward to Sydney – it will be a big event for us as we will have all our sponsors along with a corporate box and hopefully we can make something big of it and have a better weekend.
Tom Needham – C Class winner – #34 All Carbitz Mazda 3 MPS
I had a pretty good weekend across the board, considering I had never been here before. To learn a new track and come away with four wins is pretty impressive I think given what a small team we have, with mum, dad and myself, and we did our friend Joel come along too – I appreciate all of their help in getting us here so we could come away with the four wins. It was difficult running to and from my work, as I was spannering on the Trans Ams this weekend as well, but it also made it very exciting, and I am pretty impressed with what we have been able to achieve this weekend. Thank you to my sponsors All Carbitz, Oz IT Direct, Garry Rogers Motorsport, Specialised Driving Services, Revolution Race Gear and TSparkle Cocker Spaniels.
Liam Moyse – D Class Winner – #97 GenFit Toyota 86
This was a bit of a practice sort of round for us and we were really just here to cut some laps, learn a new track and improve our race craft overall, so it was good to get some good championship points as well and we are looking forward to the rest of the season. We got up to 18th overall at some point, but unfortunately having no straight line speed makes it harder as everyone is faster on the straights, while I have them on the corners, so I was learning some new overtaking manoeuvres. Thank you to mum and dad, and also my mechanic TG for supporting me this weekend, and to GenFit Ormeau, JIC Projects, Butler Vehicles and everyone else for their support.
Phil Alexander – E Class winner – #35 RaceAway Track Time BMW Mazda 3 SP25
We were quite happy with the car's performance; it ran faultlessly all weekend. We used Hankook tyres, and they were very good and very economical to run, and all the traffic that we had was exceptionally good. There were a lot of GT4 Australia cars and other faster cars out there and I was happy with how we managed the traffic with fast cars overtaking and we were able to come away without a scratch. I was happy to take out the class win, and am looking forward to heading to Sydney in June where hopefully we can continue our winning ways. Well done to the management, it was pretty well organised. I raced all four races as Shane came down with illness right before the event, so I had the gig. We had a pretty good run together at Bathurst too with another fellow, so hopefully we can continue together. At RaceAway Track Time we coach people how to race in enduros and in championships like this, and we also do race car rentals, so this is our work, so it was good that we were able to set a good example this weekend. Thank you to RaceAway Track Time, Shane's Signs and MidWest Multimedia who help with all of our communications which worked perfectly on the long circuit of Phillip Island.
2023 APC/GT4 AUSTRALIA CALENDAR:
Round one – Phillip Island – 12-14 May – Sprint (4 x 30 minutes)
Round two – Sydney Motorsport Park – 16-18 June – Enduro
Round three – Queensland Raceway – 11-13 August – Enduro
Round four – Sandown International Raceway – 8-10 September – Sprint (4 x 30 minutes)
Round five – The Bend Motorsport Park – 13-15 October – Enduro (4 x 1 hour)
Round six – Bathurst International – 10-12 November – Sprint (4 x 30 minutes