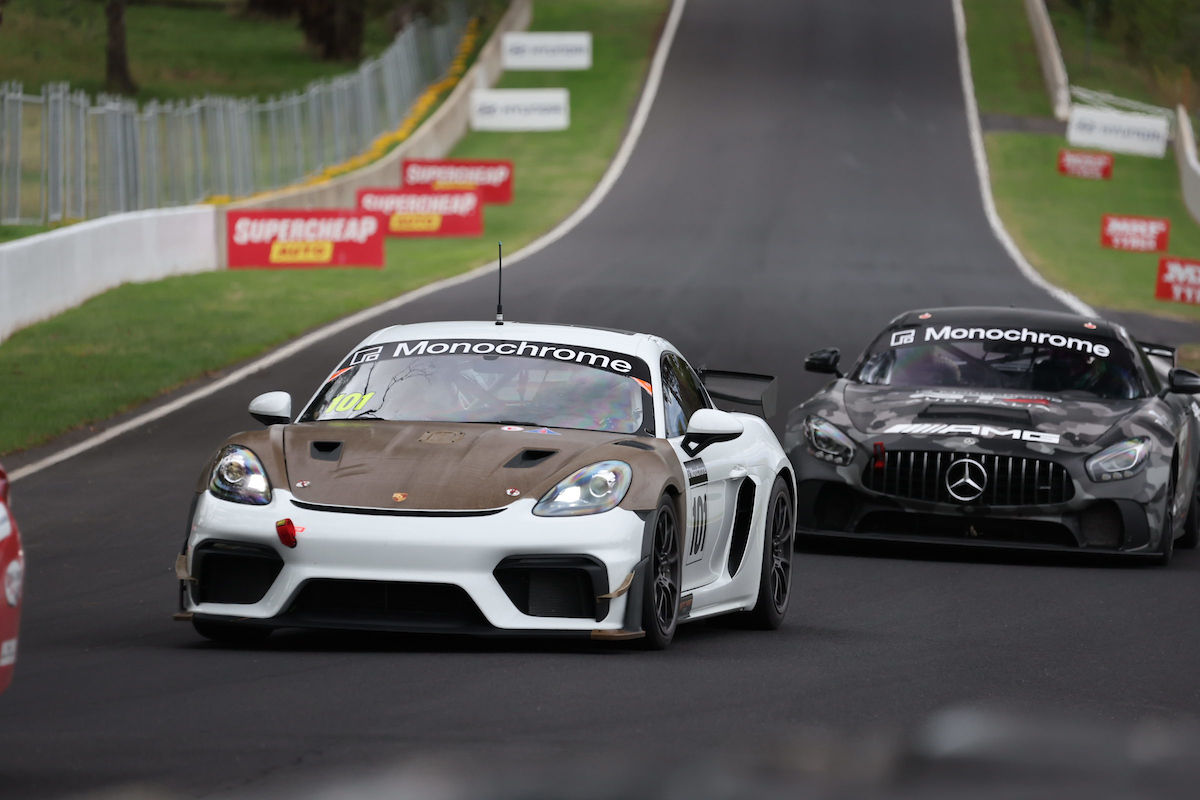 08 Apr
APC/GT4 AUSTRALIA SPRINT RACES DELIVER PLENTY OF ACTION AT BATHURST 6 HOUR
Saturday at the Bathurst 6 Hour event at Mount Panorama hosted two non-championship 40-minute sprint races for the combined Australian Production Cars and Monochrome GT4 Australia fields, with plenty of action delivered across both races to the delight of those trackside and those watching on Stan Sport.
A third and final sprint race will be held for these competitors on Sunday at 10.35am, with this race also to be broadcast live on Stan Sport as part of the Bathurst 6 Hour coverage package.
In the Monochrome GT4 Australia racing, the wins were split one apiece between Tony Quinn (#101 Queensland Raceways 718 Porsche Cayman GT4) and Karl Begg (#40 Monochrome GT4 Australia Mercedes AMG), with Quinn taking the victory in race one over Begg after earlier qualifying on pole, while Begg took the race two victory over Quinn after passing him with a repeat of the move Quinn pulled on him in race one over the top of the Mountain.
While the polesitter for race one, Quinn didn't have it all his way in the opening stanza, yielding to the APC BMWs of Beric Lynton and Grant Sherrin in the early stages, before launching an all-out attack to not only take the lead, but build a gap up to 10 seconds over the field heading into the final laps, which Begg then worked hard to cut down to 3.3 seconds in the last moments after he passed Sherrin for P2.
Mark Griffith in the #19 Daimler Trucks Brisbane Mercedes AMG GT was third for GT4 in both races (P4 and P3 outright), and came very close to taking P2 from Quinn in race two after closing a substantial gap to be all over the back of the Porsche and three seconds quicker than the Scotsman on the final lap.
Grant Denyer in the #55 Supercheap Auto Make It Super Ginetta took home a P4 for GT4 Australia (P6 outright) in race one before being forced to watch the majority of race two from a camera tower after he had to park up on the escape road after losing a door while racing down the straight, with the subsequent shock seeing him run up alongside APC racer Trevor Symonds.
In the Australian Production Cars, the brand-new #27 Sherrin Rentals BMW M4 of brothers Grant and Iain Sherrin took home two APC and class X wins.
In race one, Grant Sherrin crossed the line third on the road and first for APC and in Class X, ahead of GT4 Australia's Griffith (P4), with Lynton rounding out the outright top five and taking 2nd in class X in his #23 Bruce Lynton Service BMW F80 M3.
Lynton had lead the race in the early laps, before eventually yielding to Sherrin who had overtaken Quinn, before a slipping diff saw his M3 further relegated further down the order to P5 outright, ahead of GT4's Denyer (P6).
Seventh across the road and first in class for A1 was Chris Sutton (#321 MotoFit Lancer Evo IX), who was followed by A2 class winner Trevor Symonds (#666 Wollongong Auto Parts VE GTS Commodore – 8th outright) and A1 runner-up Michael Osmond (#17 Ozzy Outhouse Hire BMW 135i – 9th outright).
Closing out the top 10 on the road for race one was Cary Morsink (#71 More Driven Cloud Hosting HSV GTO Coupe – 2nd in class A2).
Morsink was followed across the line by Class C winner Tom Needham (#3 All Carbitz Mazda 3MPS – 11th outright), Robert Braune (#186 Westvic Earthmoving BMW M135 – 3rd for A1, 12th outright) and the B2 class winning, Chris Begg (#15 MotorsportSales.com BMW E92 M3 – 13th outright).
Oliver Loiacono took the Class D victory (#140 Heli Toyota 86) from 14th outright, while Thomas Davies claimed the Class I honours from 15th (#42 Toyota 86).
In race two, while the GT4 racers locked out the top three positions, the Sherrins again dominated for the APC racers, with Iain Sherrin crossing the line in P4 outright to again take the APC and class X victory.
Iain Sherrin was the only class X finisher for this race, with Lynton unable to return for the race following his diff issues of race one.
Sutton rounded out the top five outright for another Class A1 win, while Morsink took the A2 victory from P6, crossing the line ahead of Braune who was second for A1.
Needham brought home another Class C win from 8th outright after a race long battle for outright position with B2 class winner Chris Begg (#15 MotorsportSales.com BMW E92 M3), who finished out the race ninth outright.
While Liam Moyse had a disappointing end to his opening race, retiring to the pit lane in the final portion due to a fan belt issue in his #97 JIC/Butler Vehicles Toyota 86, he made up for it in race two, where he recovered to take the Class D victory from P10 outright despite starting at the back of the field, crossing the line ahead of race one class D winner Loiacono.
11th outright and second in Class C was Carl Climan, who was luckily able to recover from a final lap spin in wet weather in his #8 Outback Bakery Cootamundra/100 Percent Automotive VW Mk7 GTI Golf to finish 12th outright and 2nd in class C (he had finished race one P16 and second in class).
First for Class I in race two was Brock Stinson in the #31 AGM Engineering/Manvel Performance Toyota 86) from 13th outright (after finishing race one 17th and 2nd in class), who crossed the line ahead of Tim Weston (#61 TME Motorsport Ford Fiesta ST), who finished 14th outright and 3rd in class D after taking out P18 and 2nd in class in race one.
Michael Sloss (#74 Syntec Mini R56 JCW) was 15th outright and 3rd in class C in race two, after having earlier brought home P19 and 3rd in class in race one.
Joining Denyer in striking trouble in race two were Osmond (heavy contact with the wall on the final lap amidst rain), Symonds (retired with body damage following the earlier contact with Denyer) and Davies (retired on lap nine after contact with the wall).
A third and final sprint race will be held for Australian Production Cars and Monochrome GT4 Australia on Sunday 9 April at 10.35am, with this race also to be broadcast live on Stan Sport as part of the Bathurst 6 Hour coverage package.
For further information about the Monochrome GT4 Australia and Australian Production Cars and championships, contact Troy Williams on troy@ausprodcars.com.au or 0483 035 466. Entries for these series are open now, for entry forms, go to https://ausprodcars.com.au/entry-form/
2023 APC/GT4 AUSTRALIA CHAMPIONSHIP CALENDAR:
Round one – Phillip Island – 12-14 May – Sprint (4 x 30 minutes)
Round two – Sydney Motorsport Park – 16-18 June – Enduro
Round three – Queensland Raceway – 11-13 August – Enduro
Round four – Sandown International Raceway – 8-10 September – Sprint (4 x 30 minutes)
Round five – The Bend Motorsport Park – 13-15 October – Enduro (4 x 1 hour)
Round six – Bathurst International – 10-12 November – Sprint (4 x 30 minutes