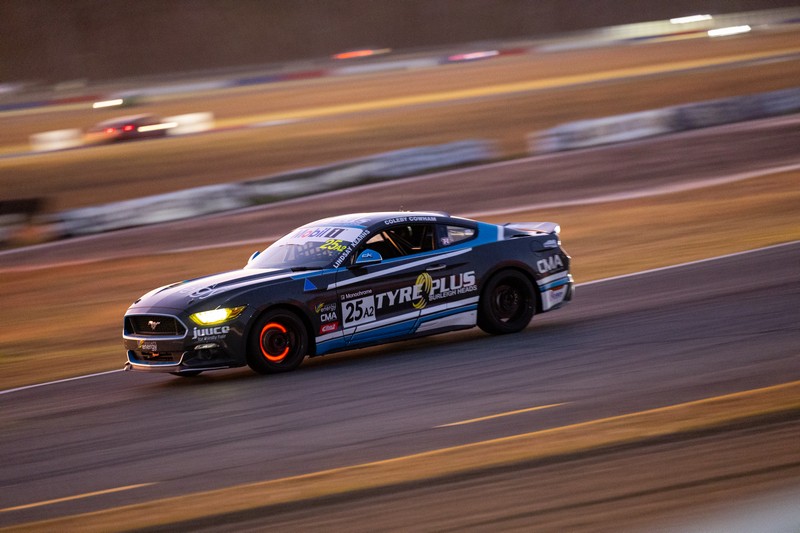 10 Oct

COWHAM AND KEARNS READY TO CHALLENGE FOR MOBIL 1 APC TITLE THIS WEEKEND

Heading into this weekend's penultimate round of the Mobil 1 Australian production cars season, Coleby Cowham and Lindsay Kearns are second in the outright points standings while also leading the way in the A2 standings in their #25 TyrePlus Burleigh Ford Mustang.

Cowham and Kearns currently sit on 441 points, 39 points adrift of current outright leader Iain Sherrin (Class X – #72 Sherrin Rentals BMW M4, 480 points) and 52 points ahead of the third-placed Grant Sherrin (Class X – #27 Sherrin Rentals BMW M4, 389 points).

With eight races remaining in the championship chase with 36 points on offer for a race win, the championship is far from decided heading into this weekend's racing at The Bend Motorsport Park, which will feature four x one-hour races.

"Along with some good fortune, a well-balanced and reliable car, and some great pit stops from the team, we have ended up here in second outright with two rounds remaining," Cowham said.

"For any team I think it is pretty cool whenever you can surprise pit lane and end up in front of the higher class cars, so if we were able to end up in front for the outright series overall that sure would be satisfying for the team and everyone that has been involved with us on this journey.

"We are feeling good heading into The Bend, perhaps with some nervous energy also. We are a bit excited also to see how the Mustang goes on the different tyres compared to our last trip here."

This isn't the first time Cowham and Kearns have been in this position – coming oh so close to a outright title win in 2019.

"We are on a completely different journey this year to the last time we contested the full national series back in 2019, but here we are having ended up in the same place – second to a Sherrin car with eight races to run," smiled Kearns.

"Ian has been a lot of fun to race with and Grant is coming home strong, so anything could happen. We head into the weekend with no firm expectations as we have learnt it is better to not have any," Kearns laughed.

"The last time we were here at The Bend it was for the 2019 finale, we were on pole, won the first three races and needed to win the fourth race to win the 2019 series outright – we had the lead and with 12 minutes left to run, a rear wheel bearing failed and the Sherrins won the title.

"After that, we learnt to try and focus on what we can do, and identify what is out of our control, so that means no expectations!"

"The Mustang is a lot of fun to drive and has been very reliable and kind to its tyres so far, but of course anything can happen on the day," Cowham added.

It isn't just the Sherrins that Cowham and Kearns are keeping their eye on either.

"Of course, the Sherrins are ones to watch for us especially with the title fight how it is, but we also know the Mustangs of the Miedeckes, Rowell and Stillwell have at least what we have and are just finding their feet," Cowham said.

"The incoming Morrall/Mecklem Mach 1 for next year will be a jet, not to mention the long-awaited debut of Chris Lillis and Nathan Callaghan's new Camaro at our grand finale at the Bathurst International.

"The Anthony Levitt Mercedes is coming off a recent went in the Queensland Production Cars, and the Campbell/Crick A1 Mitsubishi Evo in favourable conditions could also have us all watching the rear bumper.

"It really is a highly competitive series, and we are really enjoying it."

"A big part of why we are in the position we are in is because of our crew. We absolutely couldn't race without them, they stay back late when we need to, they are at the track early, they thrive on quick pit stops. They give their time and have fun, and we are so grateful and lucky to have them," Kearns said.

"Coleby and I may share the car and the expenses, but our crew at and away from the track make this all possible, so thank you to our pit crew, Ashley, Craig, Shane, Bob, and Naomi; to Tyre Plus Burleigh's Craig, Matty, Jamie, Elias and Susan; to Arch, Roger, and Kristy; and to CarMods Australia, Escape Energy, Juuce Haircare and Exedy Clutches."

Round five of the 2023 Mobil 1 Australian Production Cars will be held at The Bend Motorsport Park as part of the latest Shannons Trophy Series event across October 13-15 featuring four x one-hour races alongside Monochrome GT4 Australia. Entries close on Thursday 5 October at www.ausprodcars.com.au.

Entries are also open for the grand finale, to be held as part of the Bathurst International across November 10-12, at www.ausprodcars.com.au

For further information about Mobil 1 Australian Production Cars and Monochrome GT4 Australia, please contact admin@ausprodcars.com.au or visit www.ausprodcars.com.au.