04 Apr
DENYER JOINS GT4 AUSTRALIA FIELD
Accomplished GT racer and media personality, Grant Denyer, has officially thrown his support behind Monochrome GT4 Australia ahead of its first outing of the 2023 season at Mount Panorama this weekend (April 7-9).
Denyer will compete in the #55 Supercheap Auto Make it Super Ginetta G55 for the three 40-minute non-championship sprint races for Monochrome GT4 Australia and Australian Production Cars competitors as part of the Bathurst 6 Hour.
Plans are also underway for him to compete in the 2023 Monochrome GT4 Australia Championship, which will hold its first round of the year across May 12-14 at Phillip Island.
"It is exciting to be a part of the dawn of a new category," Denyer said.
"I think GT4 has a really strong future in Australia. Having competed in GT for almost a decade, I really love these cars. They are fast, they are robust, they are reasonably economical to run, and they look good, so all around, it is exciting."
Denyer is an experienced steerer in the GT world, winning the GT Championship in 2016 and being the runner-up in 2015, and standing on the podium at Bathurst many times.
"This is a sport that I love very, very much and which I hold dearly to my heart, so it is great to be a part of it and at the end of the day, it is a cool opportunity to fang cool cars around an awesome race track – who wouldn't want to do that?!" he enthused.
"The Ginetta is a pretty experienced GT4 car, they have been around for quite a while racing overseas and this one in particular has done a few Bathurst 12 Hours as well, so it has plenty of history around the Mountain and knows its way around the track.
"Coming off the 12 Hour we have done plenty of fresh miles at Bathurst, so we should be reasonably dialled in pretty quickly.
"I am just so proud to be there as part of the debut of GT4 Australia and to be part of kick starting this exciting new period for Australian motorsport.
"I feel very passionate about motorsport, so whenever something exciting and new comes along it is great for the sport and great to be a part of."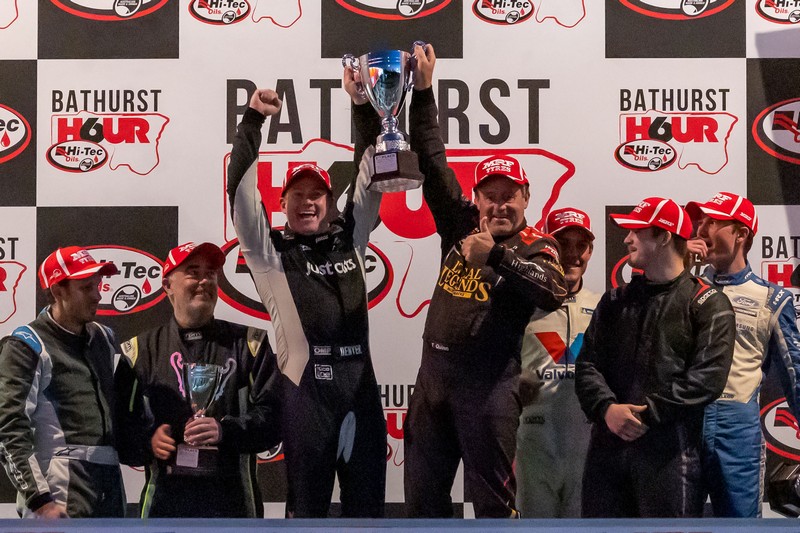 Work is also underway to ensure we can see Denyer competing in the Monochrome GT4 Australia series not only this weekend, but all season long.
"The plan is to build a program for the remainder of the year. I would like to do the entire championship and that is what we are trying to build now," Denyer explained.
Troy Williams of Production Car Racing Limited, the category manager for Monochrome GT4 Australia and Australian Production Cars, said he was thrilled to be able to announce Denyer as part of the grid.
"Grant is a fantastic driver with a history of competing in the Australian Production Car series alongside a strong GT program, and it is great to have him join us," Production Car Racing Limited General Manager, Troy Williams, said.
"It is great to see Grant and other high-profile competitors having the desire to join us and perform in GT4 machinery, and we are excited to have names such as Denyer, Tony Quinn and more coming across the year helping to add to the exposure of this new series and really get it out there."
The non-championship sprint races for the Monochrome GT4 Australia and Australian Production Car racers at the Bathurst 6 Hour will be streamed live and ad-free on Stan Sport on the Saturday and Sunday of the event.
Entries for the 2023 Monochrome GT4 Australia and 2023 Australian Production Cars Championship season are open now. For entry forms, go to https://ausprodcars.com.au/entry-form/
For further information about the Australian Production Cars and Monochrome GT4 Australia championships, contact Troy Williams on troy@ausprodcars.com.au or 0483 035 466.
2023 APC/GT4 AUSTRALIA CHAMPIONSHIP CALENDAR:
Round one – Phillip Island – 12-14 May – Sprint (4 x 30 minutes)
Round two – Sydney Motorsport Park – 16-18 June – Enduro
Round three – Queensland Raceway – 11-13 August – Enduro
Round four – Sandown International Raceway – 8-10 September – Sprint (4 x 30 minutes)
Round five – The Bend Motorsport Park – 13-15 October – Enduro (4 x 1 hour)
Round six – Bathurst International – 10-12 November – Sprint (4 x 30 minutes)