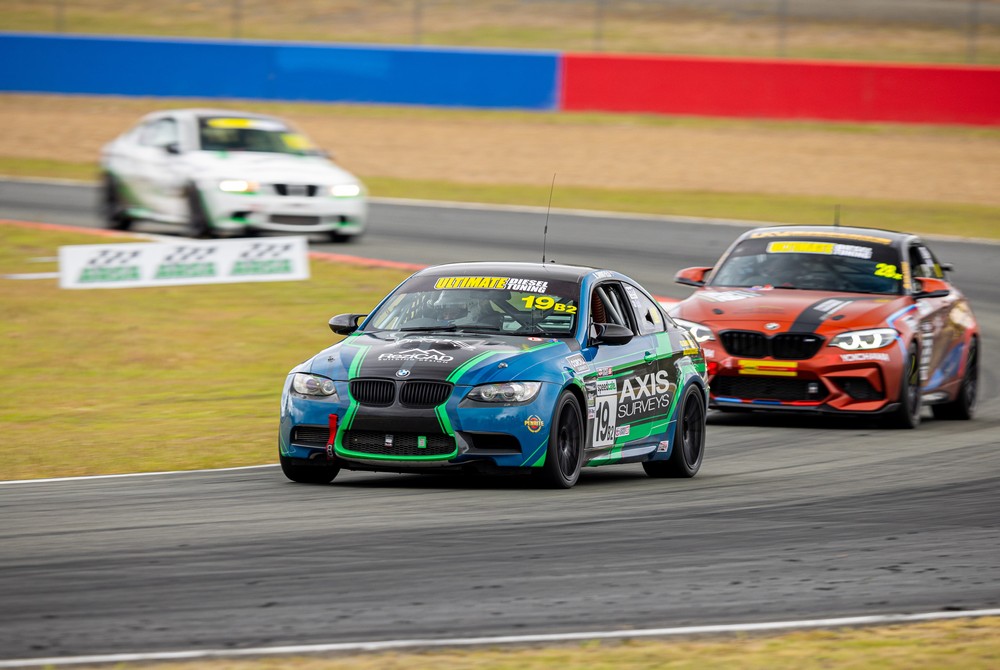 08 Aug

GROWING B2 FIELD READY TO ROLL AT QR THIS WEEKEND

A growing B2 class has been confirmed for round three of the Mobil 1 Australian Production Cars, making it one of the categories to watch this weekend at Queensland Raceway (August 11-13).

Featuring a mix of APC regulars and newcomers, including three V8-powered BMW M3s entries which are sure to put on quite the high-powered show, the largest B2 line-up for quite some time will take on two one-hour races (Friday and Sunday) as well as the highly anticipated two-hour Fight in the Night showdown under lights on Saturday night, as part of a combined overall grid of 37 entries alongside Monochrome GT4 Australia.

Amongst the line-up will be national debutants Richard Shinkfield and Ettore Vosolo in the #119 Axis Surveys BMW E92 M3 and APC regular Chris Holdt, who is trading in his C class Astra for his B2 class #51 Lithostone Surfaces Holden HSV Commodore SS for the remainder of the season. Joining them on-track in the B2 class will be the #38 KCK Lubricants/Vic's Timber BMW M3 of Ben Gersekowski and the #115 Btuned Euro Specialist BMW E92 M3 of Chris Begg and rising star, Jett Johnson.

Regular Queensland Production Car (QPC) racers Shinkfield and Vosolo are jumping from state-level competition to the national stage with the support of their sponsors Axis Surveys, ReziCAD, and Unica Stone and Tile Boutique for the first time this weekend.

Shinkfield and Vosolo are currently first and second in the QPC B2 standings respectively and will be running their Axis Surveys-backed BMW M3 in APC B2 class. The duo has plenty of experience with night racing at Queensland Raceway and are looking forward to stepping up to the next level in APC.

"We are confident running at Queensland Raceway and are looking forward to the two-hour race," Shinkfield said.

"We have probably done four or five night races now at QR in QPC and other events and are looking forward to the Fight in the Night. The B2 lineup looks good with three BMW E92s and a Commodore, so the competition will be great."

Shinkfield says their strategy for the weekend is to run a clean race, stating that with hopefully no troubles, the results will follow.

"We are definitely looking forward to the weekend and to jumping up to the next level in the APC. For the two hour race, having pit stops with refueling will be a new challenge for us, which we are looking forward to," Shinkfield said.

"With 37 cars out there, we just need to keep our noses clean and make it to the end. That is the important part," concluded Shinkfield, while noting that he and Vosolo hope to return to the APC for another event later in the year.

Meanwhile, Chris Holdt will be looking for redemption following an issue-plagued round two at Sydney, which has seen his C class Astra VRX parked while they continue to diagnose the turbo issues that forced an early retirement at that event.

Backed by Lithostone Surfaces, La Rocca Marble and Granite, Air and Allied Sales Pacific, and Burson Auto Parts, Holdt's Prime Motorsport outfit has dusted off its HSV Commodore SS for the rest of this season and is ready to fight for the B2 class podium.

"We had a catastrophic turbo failure at SMP in that car (the C class Astra) and we haven't yet managed to get to the bottom of the issues," Holdt explained.

"So, we decided to pull our old Commodore out of the corner and drag it out of retirement for the rest of the season while we get on top of those issues."

Holdt and his Prime Motorsport outfit have found previous success with the HSV Commodore SS, finishing second in the B2 class in the 2022 Bathurst 6 Hour, and the car also won its class at Sandown last year in the APC with Sean Evans behind the wheel.

"It will be great to run again in the B2 class, it will be interesting to see how the poor old Commodore goes against the BMWs, but we will see what happens, and we are always up for the challenge," Holdt smiled.

Round three of the Mobil 1 Australian Production Cars and Monochrome GT4 Australia will be held at Queensland Raceway across the 11th to the 13th of August.

While entries for this event are now closed, entries are open now for rounds four through six at www.ausprodcars.com.au.

For further information about Mobil 1 Australian Production Cars and Monochrome GT4 Australia, please contact admin@ausprodcars.com.au or visit www.ausprodcars.com.au.