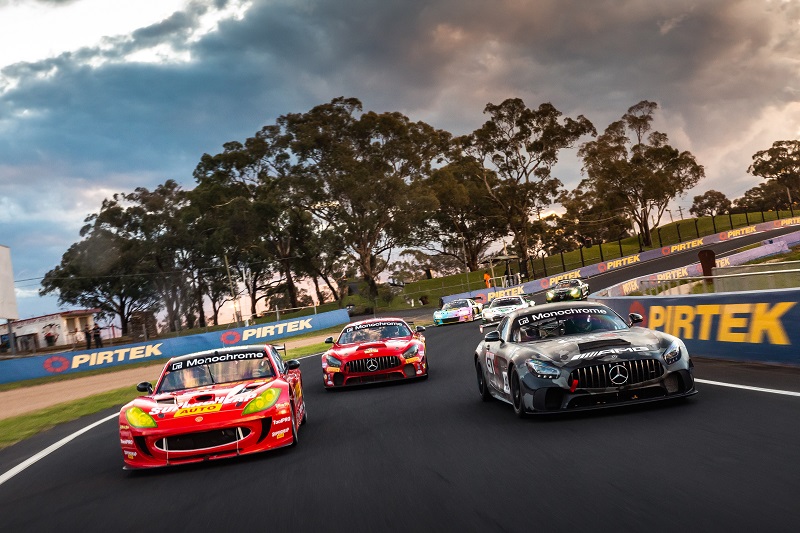 12 Apr
GT4 AUSTRALIA ANNOUNCES FUTURE PLANS
Following the category's popular debut as part of the Bathurst 6 Hour at the weekend, the future plans for Monochrome GT4 Australia have today been confirmed by category managers, Production Car Racing Limited.
From 2024, GT4 Australia will move to a standalone grid as part of the Shannons SpeedSeries, and will also feature an exciting new three-hour enduro as its series grand finale as part of the Bathurst International.
Currently running a semi-slick tyre as it runs its debut season alongside the Australian Production Cars for 2023 only, the move to a standalone grid will also see GT4 Australia move to a slick and wet tyre solution from 2024, in line with other global GT4 championships.
Today's announcement follows a successful debut for Monochrome GT4 Australia over the Easter weekend, where GT4 Australia and Australian Production Car competitors contested three 40-minute non-championship sprint races at Mount Panorama – all of which were broadcast live on Stan Sport.
Production Car Racing Limited General Manager, Troy Williams, said he was excited to see the globally booming GT4 formula establish its own independent identity as part of the prestigious Shannons SpeedSeries line-up from 2024.
"Mount Panorama and the Bathurst 6 Hour were the perfect time and place for Monochrome GT4 Australia to make its official on-track debut," enthused Production Car Racing Limited General Manager, Troy Williams.
"Australian Production Cars experienced fantastic growth last year, and production car racing continues to be a powerhouse in the Australian landscape.
"With its clear success, running GT4 Australia alongside APC for 2023 only as a temporary measure makes perfect sense.
"Following the exceptionally well received debut at the weekend and with already more than sufficient demand from GT4 competitors, we are ecstatic to officially reconfirm our original plans for the category.
"GT4 Australia will form its own standalone grid with the Shannons SpeedSeries from 2024, and not only that, but it will also feature an epic three hour race as its 2024 season finale at Bathurst.
"This three hour will be the hero race for the 2024 Monochrome GT4 Australia series, and will add another exciting event to the Mount Panorama endurance line-up, sitting nicely alongside the Bathurst 12 Hour and Bathurst 6 Hour – with the Bathurst 6 Hour of course remaining the exclusive domain of production car racing in Australia.
"It is now more clear than ever that an exciting future certainly lays ahead for Monochrome GT4 Australia, and with demand high, we encourage anyone who is interested in jumping on board with this booming category to get in touch now."
Australian Racing Group Chief Operating Officer, Liam Curkpatrick, said the evolution of GT4 Australia would be another strong story within the Shannons SpeedSeries in 2024.
"The Shannons SpeedSeries is growing from strength to strength and we are looking forward to the development of Monochrome GT4 Australia moving forward," Curkpatrick said.
"There is a lot of buzz around GT4 Australia right now, especially following its official launch last weekend. It is a category with significant growth potential, and we are looking forward to working with the category to grow it in Australia into the future.
"Their long-term plans complement ours, especially with the Bathurst 6 Hour which will remain the premier enduro for Production Cars well into the future."
Entries for the 2023 Monochrome GT4 Australia and 2023 Australian Production Cars season are open now. For entry forms, go to https://ausprodcars.com.au/entry-form/
For further information about Monochrome GT4 Australia and Australian Production Cars, contact Troy Williams on troy@ausprodcars.com.au or 0483 035 466.
Image thanks to Jack Martin.
2023 APC/GT4 AUSTRALIA CALENDAR:
Round one – Phillip Island – 12-14 May – Sprint (4 x 30 minutes)
Round two – Sydney Motorsport Park – 16-18 June – Enduro
Round three – Queensland Raceway – 11-13 August – Enduro
Round four – Sandown International Raceway – 8-10 September – Sprint (4 x 30 minutes)
Round five – The Bend Motorsport Park – 13-15 October – Enduro (4 x 1 hour)
Round six – Bathurst International – 10-12 November – Sprint (4 x 30 minutes