15 Oct

LUCK, GOOD AND BAD, SUNDAY AT THE BEND FOR MOBIL 1 APC

The final two races of the penultimate round of the 2023 Mobil 1 Australia Production Cars season have been run and won at The Bend Motorsport Park. Sunday's two one-hour races didn't disappoint, with plenty of racing action for spectators watching trackside or via the live broadcast. For a weekend beginning with Friday the 13th, luck played a big factor in how the weekend shook out.

Round winners

Coleby Cowham/Lindsay Kearns (#25 TyrePlus Burleigh Ford Mustang GT) have secured the APC and Class A2 round win ahead of Grant Sherrin (#27 Sherrin Racing F82 M4) in outright 2nd/X 1st, and Chris Lillis/Nathan Callaghan in the #64 Bilstein HSV VF Clubsport (A2 2nd).

Joining them in receiving class-winning round honours were A1's Paul Buccini/Justin Anthony – #71 Team Buccini Racing BMW M140i, B1's – Karlie Buccini/Courtney Prince (#999 Brisbane Motor Works BMW 135i), Class C – Christopher Gunther/Mitchell Randall – #15 Wahlstrom Financial Services BMW 130i, and Class D – Liam Moyse – #97 GenFit Toyota 86.

Second and third in classes were A1's Chris Sutton (#321 321 MotoFit Mitsubishi Lancer Evo X), and X's Iain Sherrin in the #72 Sherrin Rentals BMW F82 M4 (2nd) and Michael Stillwell/Ray Hislop in the #6 Stillwell Family Racing Ford Mustang Mach 1(A2 3rd).

Race three

In race three, the Cowham/Kearns entry crossed the line ahead of Iain Sherrin (X 1st) and A2's Anthony Levitt/Luke King in the #16 AMG Spares Mercedes C63 AMG (A2 2nd).

Next across the line in race three outright 4th was Lillis/Nathan Callaghan (A2 3rd), followed by the Michael Rowell/Cameron McLeod #6 Rowell Family Logistics Ford Mustang GT (5th/A2 4th), Paul Buccini/Anthony (6th/A1 1st), Karlie Buccini/Courtney Prince (7th/B1 1st), Moyse (8th/D 1st), Grant Sherrin (9th/ X 2nd), and Gunther/Randall (10th/ C 1st).

Rounding out the field were A2's Michael Stillwell/Ray Hislop in outright 11th (A2 5th) and Brain Callaghan (12th/A2 6th).

After failing to start race two due to engine issues, A2's Brian Callaghan (#37 Callaghan Concrete Pumps Holden VY GTS) spent an extended amount of time in the pits in race four, complaining of a braking issue.

After two class wins on Saturday, Sunday did not go to plan for A1's Chris Sutton, with a blown turbo triggering a safety car in lap one in race three, cutting his weekend short.

Likewise, the A2 Class #666 Wollongong Auto Parts Holden VE GTS entry of Trevor Symonds was struck down with a rear main seal issue halfway through race three, resulting in a DNF and would ultimately not return for race four. A2's Symonds also received one of two penalties in race three, a 30-second time penalty for unsafe pit entry, while a 5-second penalty was applied to #3 Rowell/McLeod (Class A2) for a start line infringement.

Rowell/McLeod received another 5-second penalty in race four for contact. Later in the race, Rowell/McLeod's Ford Mustang GT blew a puff of blue smoke and was brought into the garage to investigate, with Rowell/McLeod unable to finish the race.

Race four

Race four was a return to form for both Sherrin cars, with the pair dicing with the Cowham/Kearns entry for an APC race four outright 1-2-3 early in the race before a heartbreaking late race DNF for Iain Sherrin. A post-race investigation overturned the DNF, paving the way for him to finish outright 10th for the race. Grant Sherrin would go on to take outright and Class X 1st, ahead of Cowham/Kearns (A2 1st) and Stillwell/Hislop (A2 2nd).

Levitt/King found themselves limping around the entirety of the track in race four, thanks to an unknown gremlin that resolved itself without needing to pit and would cross the line in outright 4th, A2 3rd.

The Paul Buccini/ Anthony entry was next in outright fifth (A1 1st).

Moyse enjoyed a successful Sunday, coming away from the weekend wrapping up the Class D championship title. Brian Callaghan capitalised on Rowell/McLeod's late-race misfortune to take the A2 2nd (outright 6th).

Rounding out the APC top 10 in race four were Karlie Buccini/Courtney Prince (B1 1st), Chris Lillis/Nathan Callaghan (A2 4th), Brian Callaghan (A2 5th) and Gunther/Mitchell Randall (C 1st)

The #51 Lithostone Surfaces HSV Commodore of Chris Holdt/Richard Shinkfield was the round B2 winner; however, they struggled with mechanical issues all weekend, and despite their best efforts, they were unable to complete any of the weekend's races and ultimately did not start race four.

For the race report from races one and two, please click here.

The 2023 Mobil 1 Australian Production Cars season continues with the sixth and final round of the season at the Bathurst International across November 10-12 with four x 30-minute sprint races alongside Monochrome GT4 Australia. Entries are open now at www.ausprodcars.com.au

For further information about Mobil 1 Australian Production Cars and Monochrome GT4 Australia, please contact admin@ausprodcars.com.au or visit www.ausprodcars.com.au.

QUOTEBOARD – ROUND FIVE, 2023 MOBIL 1 AUSTRALIAN PRODUCTION CARS, THE BEND MOTORSPORT PARK – OCTOBER 15, 2023

APC Outright & Class A2 winner – Coleby Cowham/Lindsay Kearns – #25 TyrePlus Burleigh Ford Mustang GT
Coleby Cowham
"I am very happy, of course. The car is just so good on its tyres, and the pit crew are amazing at keeping it all together and keeping it on the black stuff, and we managed to, with a bit of luck, be there at the end.
"The car just loves that track. It's just perfectly suited for it.
"We'd like to thank TyrePlus Burleigh Heads, Car Mods Australia, Exedy Clutches and our crew of Craig, Ashley, Bob and Naomi."
Lindsay Kearns
"The competition was getting a lot sharper. There are a lot of cars that have the same sort of performance as ours and they just had a bit of a bad run, so we could have been in a bit of trouble with a few of them, but perchance, we ended up okay, so it was a good weekend.
"Our guys were comparing their efforts with the pitstops, and we had four out of four being the quickest. They were delighted with their effort, and we were too."
Class X winner – Grant Sherrin – #27 Sherrin Rentals BMW F82 M4
"The car had some good speed for the whole weekend. We were still getting a little bit of the setup right in practice, but we got it right. We went out and qualified well.
"I had dramas all weekend with tyres, but we found the issue with that. We're putting it down to tyre pressure sensors that go into the rims, causing damage to the rims.
"When we didn't have a tyre problem, the cars were on song. It was really good. I got second outright in the first race but didn't go too well in the third race because of the tyre issues. I ended up winning the last race, which helped make up for coming in 9th outright in the previous race.
"The pitstops were fantastic; they were really, really quick, which helped us stay in touch, or in front of the A1 and A2 cars where they only have to do one tyre change, and we have to do two. Our crew were incredibly fast and on point this weekend and our results are a testament to their hard work."
Class A1 winner – Paul Buccini/Justin Anthony – #71 Team Buccini Racing BMW M140i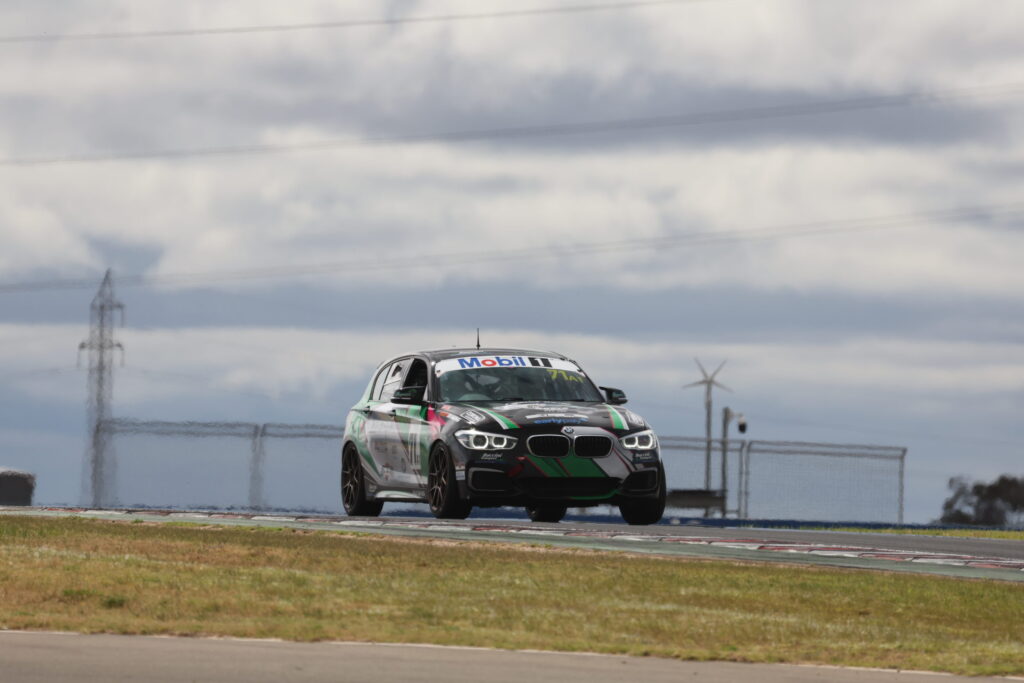 Paul Buccini
"I've never been to the track [The Bend] before. I've never done any sim work or anything, so it took a bit to learn. We had a few car problems that restricted us all weekend. We just chased it all weekend trying to work it out, but look, we still came back with a win, and we survived the weekend. We got to the end and I started to enjoy the track. I just wish we didn't have the car problems because we would have gone a bit quicker.
"I want to send a massive shoutout to Justin, my co-driver, but also my crew from Brisbane Motor Works. They came along with me this weekend and just played with the car all weekend."
Justin Anthony
"It was a good weekend, it was my second time teaming up with Team Buccini for the APC enduros. We battled a lot of car problems this weekend in every race and through qualifying. We managed just to stay consistent and baby the car home, which is always our MO – stay out there and be consistent."
Class B1 winner – Karlie Buccini/Courtney Prince #999 Brisbane Motor Works BMW 135i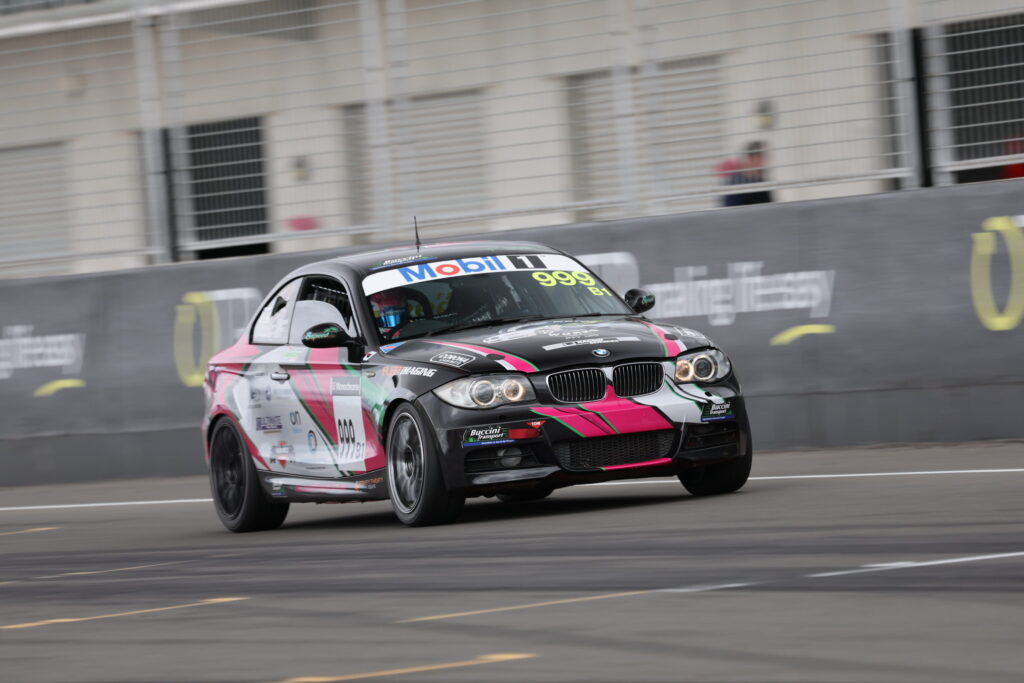 Karlie Buccini
"I'd like to thank my crew and Courtney for co-driving with me. It was a challenging weekend for me, but I chipped away at it. It was good in the end, and we won our class, so that's pretty cool. It was a good weekend, a fun weekend.
"Our crew did an awesome job with our pitstops and getting the cars prepped and ready, we wouldn't be here without them."
Courtney Prince
"It was my first ever production round, bar the Bathurst 6 Hour, so it was my second time in the car with Karlie. It was so cool to be back in it at The Bend, it is one of my favourite tracks. I really enjoyed helping Karlie and helping the car and getting to do some laps around in the shorter enduros.
"It was my second ever endurance race, so it's cool to do some different racing to my Porsche racing, which is all quite short races."
Class C winner – Christopher Gunther/Mitchell Randall – #15 Wahlstrom Financial Services BMW 130i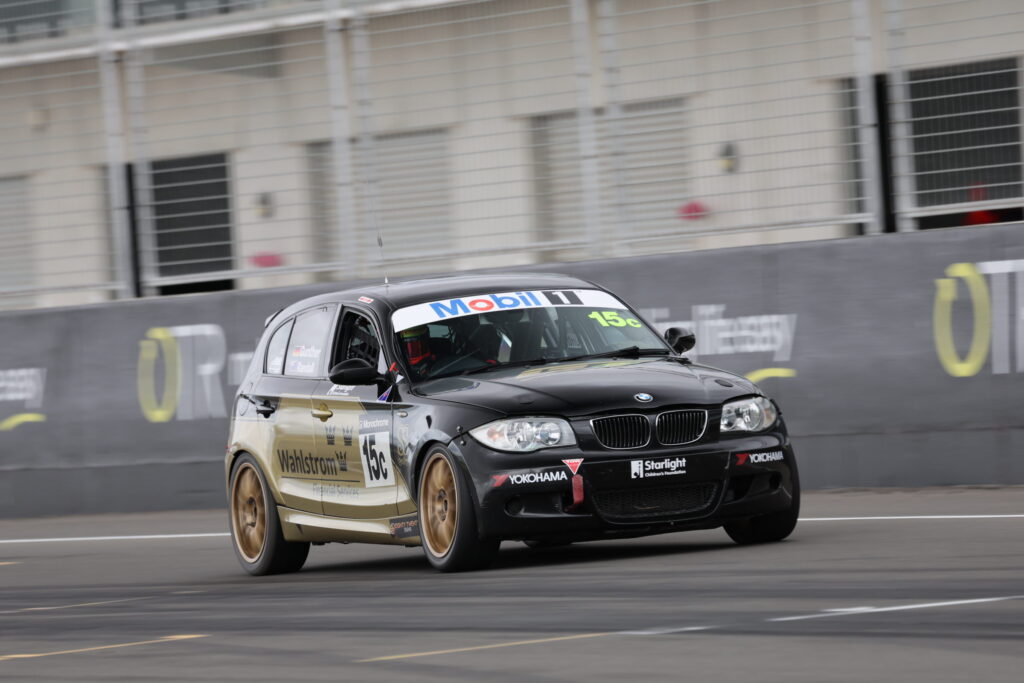 Christopher Gunther
"The weekend was run really smoothly, and I was very happy with the way the event has gone. Obviously, for us, it was a massive team effort. We had a lot of gremlins to deal with and overcame them as a team. It was a real team effort this weekend.
"I'd like to mention a couple of our team members: Brendan, Jenny and Dana. They did an incredible job this weekend, working until 1.30am every night.
Mitchell Randall
"Our weekend was quite difficult. We had a lot of electrical gremlins. From a team perspective, we worked really well together to make sure the car would finish out the weekend. To get the win for the weekend was really, really good."
Class D winner – Liam Moyse – #97 GenFit Toyota 86
"It was a great weekend, we wrapped up the championship for the class and couldn't be more happy with the result. It was a consistent race pace, but a couple of mistakes on Saturday caused a few bent rims. Other than that, I'm really happy with the result. It was great racing all around."