14 Jun

MEGUIAR'S TO REWARD MOBIL 1™ APC BEST PRESENTED TEAMS

Ahead of round two of the 2023 Mobil 1™ Australian Production Cars at Sydney Motorsport Park this weekend (June 16-18), Meguiar's and APC's category management have announced the new Meguiar's Best Presented Award.

At each round of the 2023 Mobil 1™ Australian Production Cars season, a team will be selected as the Meguiar's Best Presented team for that event.

At the season finale as part of the Bathurst International in November, the six Meguiar's Best Presented teams appointed to that time will be judged as a group by Meguiar's representatives, with the winner to be announced as the Meguiar's Best Presented Award Winner, receiving a grand prize made up of $1500 worth of high-quality Meguiar's car care products.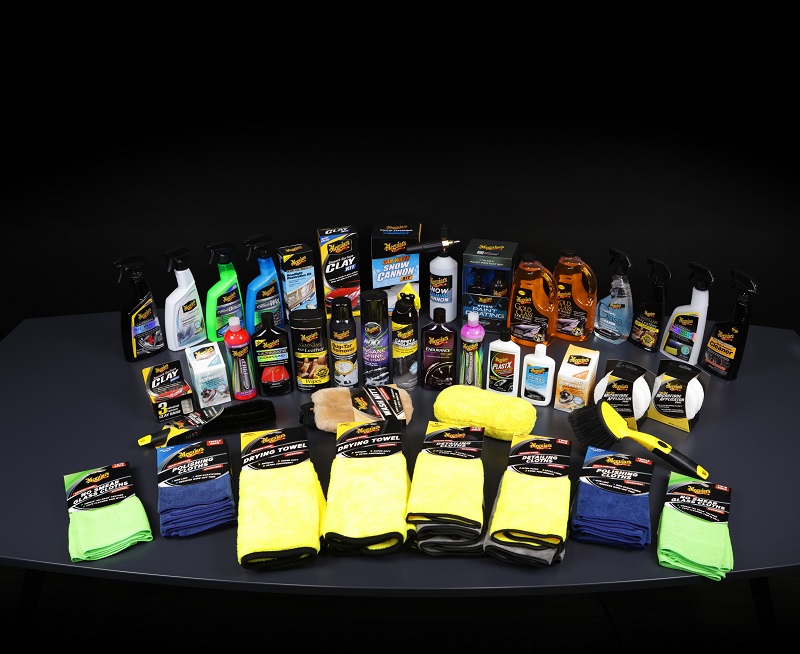 MotorActive is the exclusive Australian Meguiar's distributor (since 1990) as well as the Australian Mobil 1 retail distributor.
MotorActive's Managing Director, Bruce Morrison commented, "The Mobil 1 Australian Production Cars is growing from strength to strength, and we are pleased to be able to expand MotorActive's partnership with the category through the introduction of the Meguiar's Best Presented Award."
Mr Morrison also stated, "As a motorsport competitor myself, I know how much work goes into not only excelling when it comes to race results but doing so while presenting a well-polished image both on and off the track."
"Committed to helping everyone ensure their ride looks the best it possibly can at all times, Meguiar's is excited to have this opportunity to reward Mobil 1™ Australian Production Car competitors for putting their best foot forward."
Troy Williams, the General Manager of Mobil 1 APC category manager, Production Car Racing Pty Ltd, said he was pleased to announce Amar Sharma and Daniel Natoli and their A1 class the #39 Gtechniq/LME Care Audi TTRS as the Meguiar's Best Presented team from the season opener at the Phillip Island Grand Prix Circuit in May.
"We are very pleased to welcome Meguiar's to the Mobil 1 Australian Production Cars family, and to have their help in rewarding our teams for their efforts to always put their best foot forward as they contest our championship," Williams said.
"Congratulations to Amar and Daniel on being announced as our round one Meguiar's Best Presented team. We look forward to seeing them join with the best presented teams from rounds two, three, four, five and six for the final judging come November.
"Meguiar's is a fantastic and well-respected brand, and I have no doubt that whoever is crowned as the overall Meguiar's Best Presented Award Winner at the Bathurst International will be exceptionally happy with their $1500 Meguiar's Car Care prize package."
Round two for the Mobil 1 Australian Production Cars and Monochrome GT4 Australia will be held at Sydney Motorsport Park across June 16-18. While entries for round two are now closed, entries for rounds three through six are available now. For entry forms, go to https://ausprodcars.com.au/entry-form/ For further information about the Mobil 1™ Australian Production Cars and Monochrome GT4 Australia, contact admin@ausprodcars.com.au or visit www.ausprodcars.com.au
About Meguiar's & MotorActive
Meguiar's is the world's leading surface care specialists. Its premium quality products have been polishing the world's planes, trains and automobiles since 1901. The Meguiar's brand was officially introduced to Australians in 1990, when Bruce Morrison launched Meguiar's Australia. As sole owner and Managing Director, Morrison morphed the company into MotorActive in 2007, to better represent the company's expanding portfolio of premium automotive brands. MotorActive's current portfolio includes Meguiar's, Mobil lubricants, ColorSpec and AutoCosmetica. MotorActive remains 100 percent Australian owned and operated. It's also a key supplier to Australia's largest automotive retailers, as well as a leading company in the Australian automotive aftermarket and the Australian motoring enthusiast community.