13 May
MOBIL 1 APC AND MONOCHROME GT4 AUSTRALIA OPEN THE BOOKS AT PHILLIP ISLAND
With two races complete and two to go, the Mobil 1 Australian Production Cars and Monochrome GT4 Australia fields are impressing with entertaining racing at Phillip Island as their respective 2023 championship seasons get underway.
The combined grid is contesting four x 30-minute sprint races at the Island this weekend as part of the Shannons SpeedSeries festivities, with race one held on Friday and race two held today and broadcast on Stan Sport.
In Monochrome GT4 Australia, Shane Smollen has been a dominating force so far, topping practice, qualifying and winning both races one and two in the #56 Prestige Connex Porsche Cayman 718.
In race one, he took the victory over Karl Begg and Tony Quinn (#101 Queensland Raceway Porsche Cayman 718), with Steve Jukes (#30 Jukes Industries BMW F82 M4) and Mark Griffith (#19 Daimler Trucks Brisbane Mercedes AMG GT) rounding out the top five while Valery Muzman (#456 VOZ Property Group Ginetta G56) finished out the race 6th in the category and 24th on the road. Smollen's victory came despite the fact that he encountered problems utilising launch control for the race start, leaving him having to come back through the field over the opening two laps.
In race two, Smollen again was victorious, this time taking the win over Quinn and Griffith, while Jukes and Begg rounded out the top five both for GT4 Australia and overall. Muzman was 6th for the category from 15th on the road. This time, it was Begg's turn to have an issue on the start line, stalling his Mercedes after trying to use less throttle after encountering too much wheel spin off the race one start. Thankfully, as was the case in race one with Smollen, no one made contact with the stranded entry.
In the Mobil 1 Australian Production Cars, Grant Sherrin (X – #27 Sherrin Rentals BMW M4), Coleby Cowham (A2) – #25 TyrePlus Burleigh Ford Mustang GT), Rob Rubis (#29 Fierce Racing BMW 135i), Tom Needham (C – #3 All Carbitz Mazda 3 MPS), Liam Moyse (D – #97 GenFit Toyota 86) and Phil Alexander (E – #35 RaceAway TrackTime Mazda 3 SP25) each took out both the race one and two victories for their classes.
The APC outright and A1 victories meanwhile were shared between Cameron Crick (race one APC and A1 win – #118 DA Campbell Transport Mitsubishi Evo X – sharing with Dean Campbell), Grant Sherrin (race two APC outright win), and Tyler Mecklem (race two A1 win – #9 Parramatta Vehicle Services Mitsubishi Evo X – sharing with Hadrian Morrall).
In race one, Crick crossed the line first for APC and A1 from 5th on the road, ahead of A2 winner Cowham, A2 runner-up Chris Lillis (#64 Cachet Homes HSV Clubsport), X class winner Sherrin, Chris Delfsma (3rd for A2 – #121 Century 21 Hazelbrook Ford Mustang GT) and X class runner-up Jack Sipp (#40 Speedcafe.com BMW M4).
Andrew Miedecke (4th for A2 – #95 Andrew Miedecke Ford Mustang – sharing with George Miedecke), Iain Sherrin (3rd for X – #72 Sherrin Rentals BMW M4), Brian Callaghan (5th for A2 – #37 Callaghan Concrete Pumps Holden VY GTS) and C class winner Needham rounded out the top ten for the APC runners.
Daniel Natoli was the A1 runner-up in the #37 Gtechniq/LME Care Audi TTRs he is sharing with Amar Sharma, crossing the line 16th on the road and 11th for APC ahead of B1 winner Rubis. Third for A1 was Paul Buccini (#71 Team Buccini Racing BMW M140i), with Buccini crossing the line 15th for APC and 20th overall ahead of C class's Allan Jarvis (#70 TOA57D Motorsport VW Polo GTi) and Justin Anthony (#90 Rent4Race BMW G20 330i), who were second and third in class respectively. Moyse was the D class winner, while the E class win went to Alexander.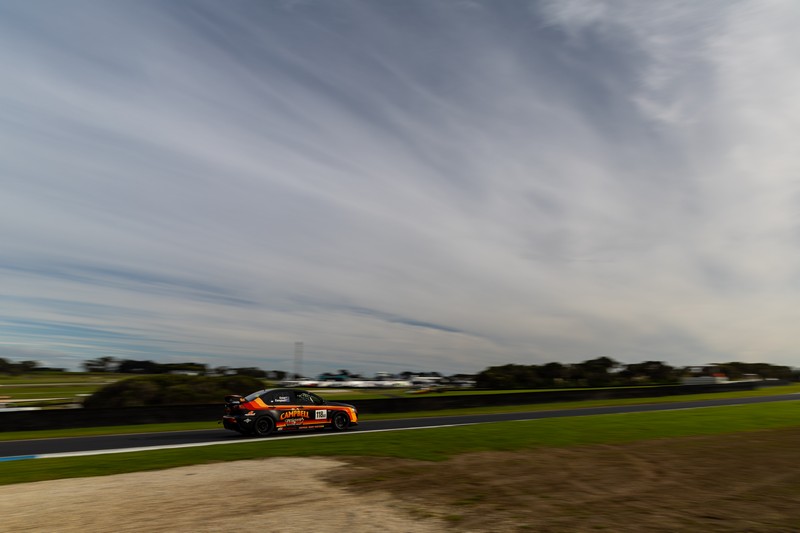 Striking trouble in race one and failing to finish was Anthony Levitt (#16 Levitt Motorsports Mercedes C63 AMG) and Mecklem, with Levitt blowing the right front tyre on the inside, while Mecklem experienced a wheel bearing failure. Both would return to contest race two today.
In race two, Grant Sherrin was the APC outright and Class X winner from 6th on the road, crossing the line ahead of A2 winner Cowham, X class runner-up Iain Sherrin, A2 runner-up Lillis, and A1 winner Mecklem.
Rounding out the top ten for APC were A1 runner-up, Campbell, Jack Sipp (3rd for X), Callaghan (3rd for A2), Levitt (4th for A2) and Sharma (3rd for A1).
Needham took the C class win, crossing the line behind George Miedecke and ahead of Buccini, D class winner Moyse, and Anthony and Jarvis who were 2nd and 3rd in C class respectively. The B1 victory went to Rubis, who crossed the line behind Mitch Randall (#15 Wahlstrom Financial Services BMW E87 130i – sharing with Chris Gunther) and ahead of Zoe Woods (sharing with Chris Holdt – #51 Lithostone Surfaces HSV Astra VRX) and E Class winner, Alexander.
Failing to finish race two were Michael Rowell (#3 Rowell Logistics Ford Mustang GT), Trevor Symonds (#66 Wollongong Auto Parts Holden VE GTS) and Delfsma.
Rowell brought out the first of two safety cars for the race when he suffered a right front tyre puncture and exited the track.
On the restart, Symonds made contact with Delfsma when he went in too deep into turn four on cold tyres, tripping over the front corner of Delfsma. Symonds was left stranded on track and Delfsma back in the pits, with a second safety car required to retrieve the former. All three entries are expected to return for racing on Sunday.
Races three and four will be held on Sunday the 14th of May at the Phillip Island Grand Prix Circuit, at 9.10am and 12.10pm respectively. Race four will be broadcast on Stan Sport.
For further information about the Mobil 1 Australian Production Cars and Monochrome GT4 Australia, contact Troy Williams on troy@ausprodcars.com.au or 0483 035 466 or visit www.ausprodcars.com.au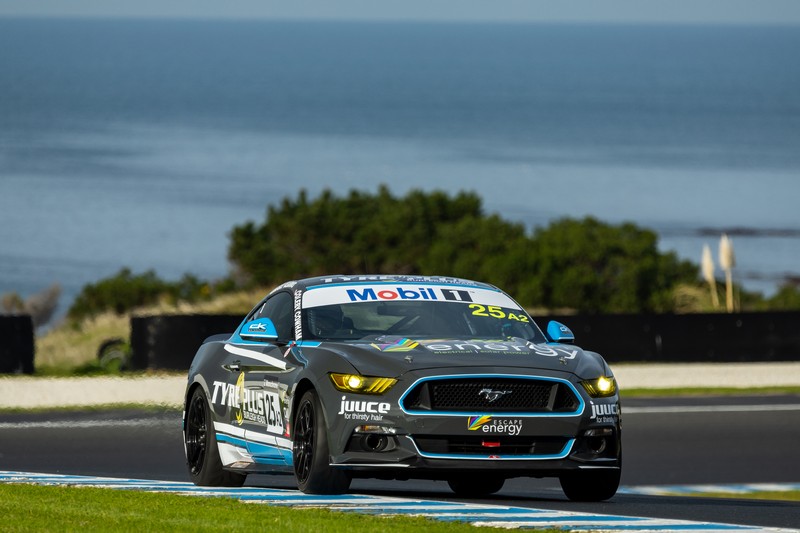 2023 APC/GT4 AUSTRALIA CALENDAR:
Round one – Phillip Island – 12-14 May – Sprint (4 x 30 minutes)
Round two – Sydney Motorsport Park – 16-18 June – Enduro
Round three – Queensland Raceway – 11-13 August – Enduro
Round four – Sandown International Raceway – 8-10 September – Sprint (4 x 30 minutes)
Round five – The Bend Motorsport Park – 13-15 October – Enduro (4 x 1 hour)
Round six – Bathurst International – 10-12 November – Sprint (4 x 30 minutes