21 Nov

MONOCHROME GROUP CELEBRATES ALL THINGS GT WITH NEW LAUNCH

The group behind Monochrome Asset Management has been an integral part of Monochrome GT4 Australia since the Series' genesis in early 2023 and today is pleased to celebrate all things GT and performance with the launch of its new brand – Monochrome GT.

The news coincides with the official expansion of the crypto-asset investment infrastructure group's backing of Monochrome GT4 Australia for a further five years, with the new brand to be front and center at the upcoming VAILO Adelaide 500 with the Monochrome GT Village, incorporating the Fanatec GT World Challenge pit and paddock area.

Monochrome GT's mission is to celebrate all things GT, supercars, exotics, and performance vehicles, providing a place for enthusiasts to share and explore their passion in safe and controlled environments both on and off track.

On offer will be Monochrome GT track days, driver coaching, exotic-car-centric events, and a range of other on and off-track activities for those who own or are interested in these high-performance vehicles.
"Monochrome GT is about representing and celebrating everything that is great about high-performance motoring," Monochrome Founder and Chief Executive Officer, Jeff Yew, said.
"At Monochrome, our mission in the crypto-asset investment space is to provide individual and professional investors with a safe, regulated, and protected environment to achieve their investment goals.
"In the same way, our commitment in motorsports is to provide a safe platform for those who are enthusiastic about high-performance GT race cars, supercars, and other exotic vehicles to celebrate their passion and achieve their goals of high performance in a regulated, controlled environment.
"Motorsports is like bitcoin, it may not appeal to everybody. But for those who choose to, it is paramount to pursue it safely. Just like it is unwise to use unregulated trading platforms to invest in crypto-assets, the same concept applies to motor racing – do it in a safe and controlled environment instead of on public streets. Monochrome GT aims to support our participants to progress their confidence and their racing goals while celebrating their passion, on and off the track.
"We are excited about this new launch as we look to take our commitment to Australian motorsports to a whole new level. Monochrome GT celebrates the passion we all share around exotic and performance vehicles; for enthusiasts, we are confident you will find something to love within Monochrome GT."
Yew is also excited about the future of Monochrome GT4 Australia, which has confirmed a six-round calendar on the Speed Series platform with a standalone grid.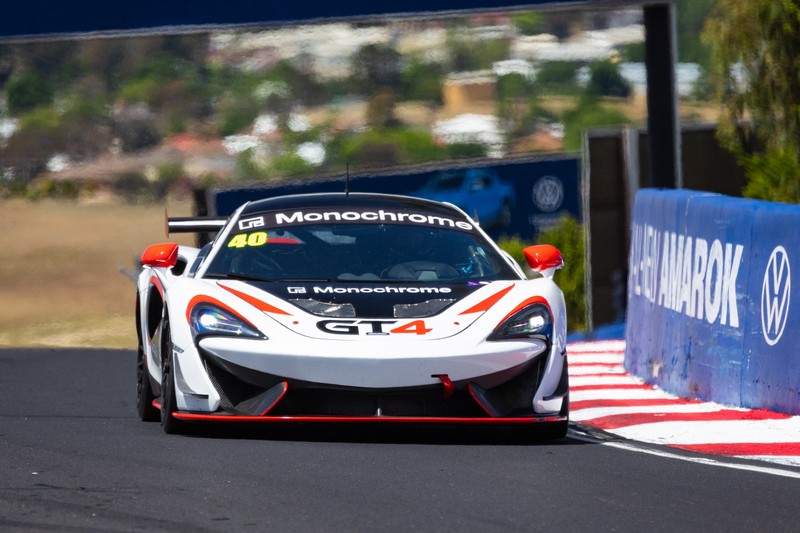 "The support Monochrome GT4 Australia has enjoyed from participants, fans, and the media across its inaugural season has been fantastic and it is clear the growth trajectory fostered this year is strong. Monochrome is excited to be a part of this growing race category in 2024 and beyond," Yew said.
Monochrome GT4 Australia Category Manager, Troy Williams, said Monochrome is an important part of the GT landscape in Australia.
"It is great to have Jeff and everyone at Monochrome as an integral part of the long-term journey for GT4 in Australia," Williams said.
"Having a business such as Monochrome which is so passionate about Australian motorsport continue to be part of this category, and so enthusiastically so, is something we are really proud of and we think it is a testament to what this category can deliver not only to competitors and race fans, but also to partner businesses.
"It is clear Jeff is very passionate about all things GTs, exotics, and supercars, and we are greatly looking forward to working alongside him to deliver exciting Monochrome GT experiences for enthusiasts while working together to continue to grow Monochrome GT4 Australia into the future.
"Stay tuned for more exciting announcements about upcoming Monochrome GT events."
About Monochrome Group
Monochrome is a crypto-asset investment infrastructure solutions group, offering specialist services which include funds management, asset servicing, transaction services, and more; all delivered with an emphasis on regulation and investor protection. To learn more about Monochrome, visit www.monochrome.co.
To learn more about the Monochrome GT Village, please click here.
For more information about Monochrome GT4 Australia, email troy@gt4australia.com.au.
2024 MONOCHROME GT4 AUSTRALIA CALENDAR & FORMATS
Non-series: Sandown Raceway – 9th-11th February – 3 Hour Enduro
R1: Phillip Island – April 12th-14th – 2 x 60 minute Sprints
R2: The Bend Motorsport Park – 31 May – 2 June – 2 x 60 minute Sprints
R3: Queensland Raceway – 2nd – 4th August – 4 Hour Enduro
R4: TBC – Aug 30th-Sep 1st – 4 Hour Enduro
R5: Sydney Motorsport Park – Oct 18th-20th – 2 x 60 minute Sprints
R6: Bathurst – Nov 8th-10th – 2 x 60 minute Sprints
Photos thanks to Speed Shots Photography