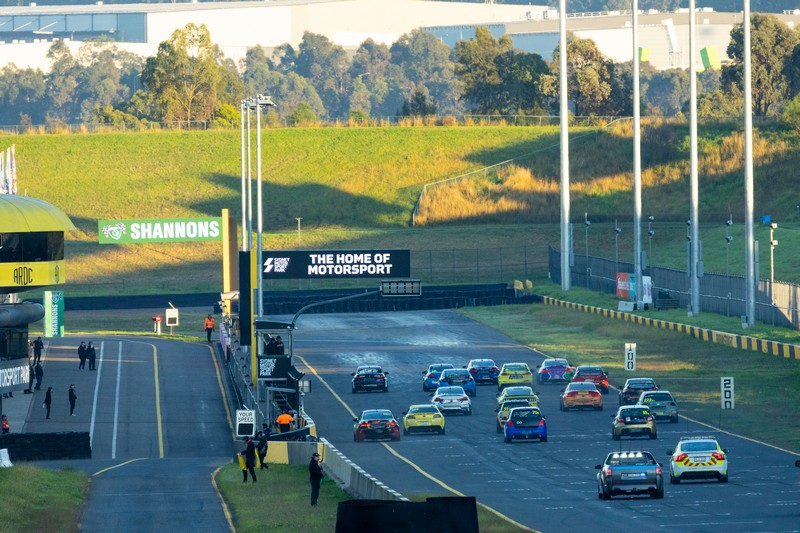 29 May

RUSSELLS DOMINATE APC SEASON OPENER

The #58 Go-Karts-Go BMW M3 of Aaren Russell, Drew Russell and Wayne Russell has ensured they leave the opening round of the 2022 Australian Production Cars with the best possible championship lead, claiming the outright and Class X victory in all three races held across the weekend, including today's 300km enduro.

The APC opened Sunday's proceedings at the Shannons Motorsport Australia Championships at Sydney Motorsport Park bright and early, with the entirety of the race run without incident or retirement in a testament to the quality of the field and their preparations.

The race saw a resurgence in fortunes for the #27 Sherrin Rentals BMW M4 of Grant and Iain Sherrin and also the #118 DA Campbell Transport Mitsubishi Evo X of Cameron Crick and Dean Campbell. The Sherrins rallied after a lacklustre start Saturday to cross the line second outright and in class X in today's enduro which allowed them to take home the third-placed trophy for the round in Class X; while the #118 brought home third outright and the Class A1 race win today.

Rounding out the top five outright were the #444 Property Investment Store BMW M4 of Anthony Soole and Adam Burgess (fourth) – which took out second outright and in Class X for the round – and the #56 Prestige Connex BMW M4 of Rob Rubis and Shane Smollen.

The #23 Bruce Lynton Service BMW M3 of Beric Lynton and Tim Leahey was sixth outright and fifth in class X after suffering tyre issues in the first half of the race, but it was enough for the entry to secure third outright for the round.

Leahey crossed the line ahead of Jimmy Vernon and his #50 Hunter Pacific Ceiling Fans Mitsubishi Evo X. The A1 class had three different race winners across the weekend, but thanks to his consistency, it was Vernon who took out the round trophy for the class, ahead of the #9 Parramatta Vehicle Services Mitsubishi Evo X of Hadrian Morrall and Tyler Mecklem (9th outright in today's race) and the #222 Harding Performance Volkswagen Golf of Cem Yucel and Iain Salteri (12th outright today).

The A2 race and round victory went to Chris Lillis and Mathew Holt in the #64 Cachet Homes HSV Clubsport, with Lillis crossing the line eighth outright and having earlier looked set for a top four finish before a late 'splash and dash' was required today. Second in class for the enduro was Ben Gersekowski in the #38 KCK Lubricants/Vic's Timber BMW M3 (11th outright), while the race debut of the #33 York Miedecke Ford Mustang of George Miedecke and Leigh Burges continued to be thwart with electrical issues. Thanks to finishing all three races however whereas Gersekowski was unable to finish race two due to damage, the #33 secured second for the round while the #38 took home the third-place trophy in class.

In Classes C and D, the #55 S-Sport Racing Mazda RX8 and the #51 MWM Racing Mini R56 continued their class winning ways, taking out their third class race victories from 15th and 13th outright respectively. By virtue of their success over the weekend, both entries took out the round trophies for their classes, with the #15 Whalstrom Financial Services BMW 130i of Chris Holdt and Chris Gunther taking home the runner-up spot in Class C.

In Class E, Allan Jarvis and the #70 Suzuki Swift crossed the line 14th outright for his second Class E race victory of the weekend, and the round class win.

The 2022 Australian Production Cars championship chase will now head to the Phillip Island Grand Prix Circuit for round two across June 25-27, with four one-hour races to be held at the picturesque Victorian circuit. For more information on the Australian Production Cars, visit www.ausprodcars.com.au or contact Troy Williams on troy@ausprodcars.com.au

2022 APC ROUND ONE QUOTEBOARD – SUNDAY MAY 29, 2022

Aaren Russell – #58 Go-Karts-Go BMW M3 shared with Wayne Russell and Drew Russell – Outright and Class X round winner, winner of races 1, 2 and 3 outright and class X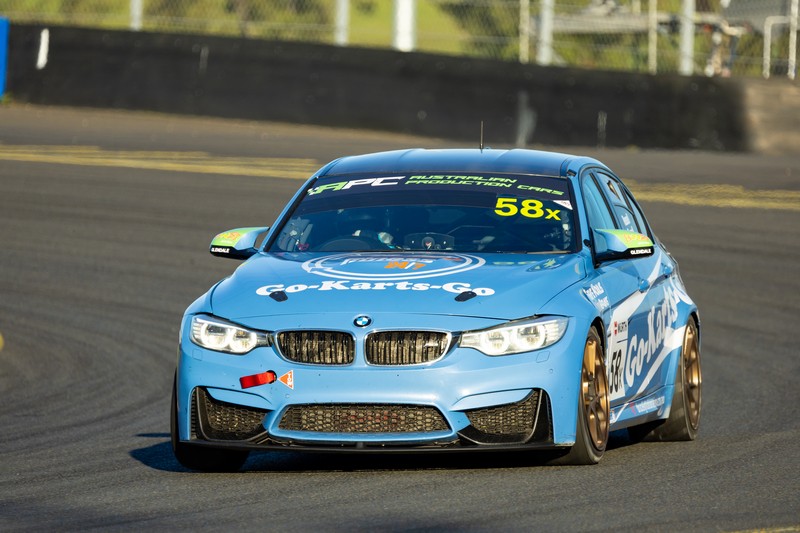 "It has been a great weekend. It is always great to come away with your family and make some more memories and it is just a bonus that we had a really good result. I am really happy for everyone and really proud of dad and drew – they did an awesome job this weekend and it was great to have a really successful weekend after a tough Bathurst," Russell said.
"I thought everything (about the weekend/APC) was great, it is kind of what motorsport is about and everyone was working together, we helped a few people out, a few helped us out, it is a great community and that definitely lacks in motorsport in a lot of areas. It is very welcoming which is a great thing for everyone, and is how motorsport should be. I want to say a big thanks to everyone that came away and helped us, it was a big family effort this weekend so to reward everyone with a good result was great, that is what it is all about."
Jimmy Vernon – #50 Hunter Pacific Ceiling Fans Mitsubishi Evo X – A1 round winner, A1 class race winner in race 1
"The weekend was good, it was our first attack at a national series race in our Evo X. Friday started out hard for us, we blew the rear diff, so we were on the back foot. But the boys worked really hard and changed it overnight and we were able to roll out and win the first race. In race two we were second in class; I had used up most of my tyres in race one and wanted to save them for the last one. The 300 was great – we did struggle a bit with straight line speed compared to some of the other class cars, so we will look at that before Phillip Island, but in the meantime, we will take the points. We are in it for the season, so we are trying to accumulate as many points as we can.
"It was great (to be back in APC). I think it is the right move by the category to go to a choice of tyre for the competitor and hopefully it starts to attract more runners in the field. What the APC is doing now is really great, there are some really big ticket events coming up and we have had a great first weekend here with the team."
Chris Lillis – #64 Cachet Homes HSV Clubsport shared with Mathew Holt – A2 class round winner, A2 class race winner in races 2 and 3.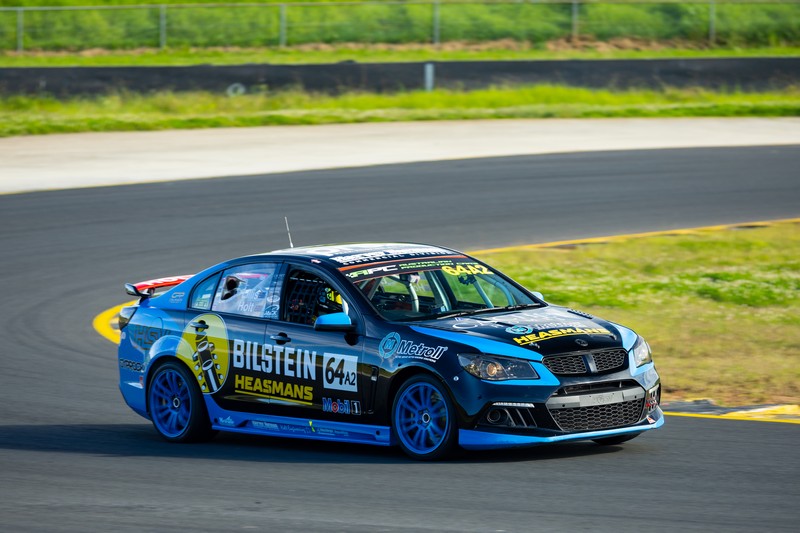 "We were fourth outright with four minutes to go in the 300km race, but we stuffed up the fuel calculations and had to do a splash at the end, so we just outsmarted ourselves. But the car was mint, and the pit stops were unbelievable, the boys really did a great job and we really had fourth sewn up before that," Lillis said.
"But all in all, it was a good weekend, a good class win, and we are already looking forward to heading to Phillip Island. It was so good to be back racing and to be back with the endurance format, it is definitely what the APC is all about. It gives class cars a chance to still be outright contenders as you have to perform as a team, not just the driver and the car. We are really happy with the weekend, and thanks to Troy and Debbie, they have been awesome all weekend and the event has run faultlessly, so good job"
Sam Silvestro – #55 S-Sport Racing Mazda RX8 shared with Ben Silvestro – C class round winner, C class race winner in races 1, 2 and 3.
"We are ecstatic. This was a freshly put together car, and up until about the last 20 minutes of todays 300k it didn't miss a beat, but we still managed to coax it across the line and finish, and we are really happy with our result. We are very happy, especially having father and son back together in a production ion car. We haven't raced together for a little while now, we have been doing the same series against each other, but it was great to jump back into a car together. It was a really good weekend – hats off to Troy for doing a great job."
James Keene – #51 MWM Racing Mini R56 shared with Matt Thewlis – D class round winner, D class race winner in races 1, 2 and 3.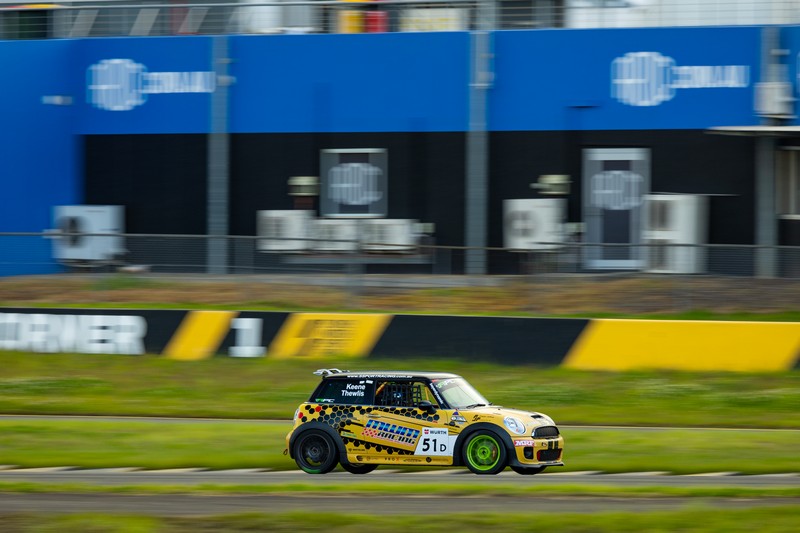 "We struggled from the get-go with boost issues as the diverter valve on the turbo kept dumping boost, so we had no power from the beginning of the weekend, other than sporadically where it would come good and then fail again. We quickly discovered that a 1.6L Mini without a turbo is slower than a 1.6L Swift without a turbo! It felt like it was jamming, so in the end we gave it a bit of a clean and after that it seemed to be working well – in the second race yesterday it was beautiful, and today it was beautiful as well," Keene said.
"I jumped in for the full 300 today. Off the beginning I didn't get a fantastic start, but we had a bit of a dice with Sam and Ben Silvestro in the Rx8, and were drawing even with the Golf of Gem Yucel and Iain Salteri, we were just pounding around doing consistent laps. As the race wore on you could tell some people were suffering tyre fatigue, we fortunately did not have too much of an issue with that, it reached a point and then didn't get worse, so we kept pounding around and ended up taking the wins and we are quite happy with where it ended up.
"It was good to be back (with the APC). The car ran well at the Six Hour, this is the car's second race meeting, so it hasn't done a whole lot, so it was good to shake some of the gremlins out."
Allan Jarvis – #70 Suzuki Swift Sport – Class E round winner, Class E race winner races 2 and 3.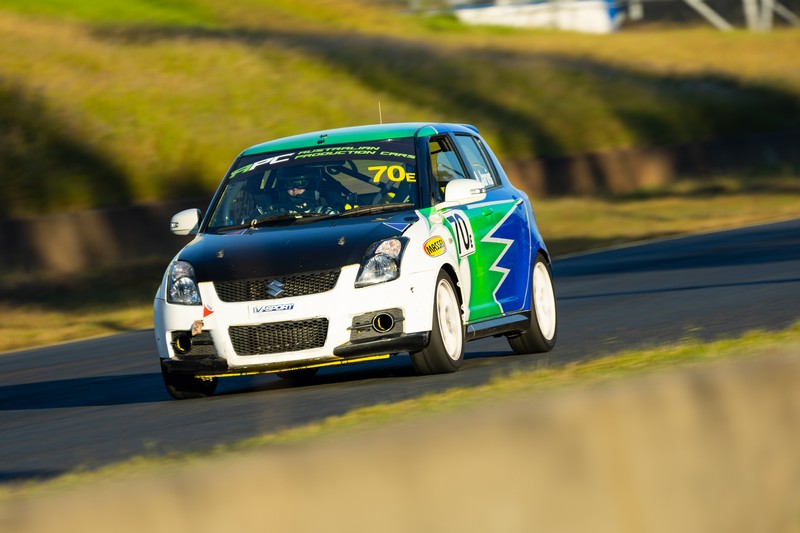 "It was a matter of just getting back into it for us. We were the only ones in class E, so we were trying things out and seeing what works and what doesn't, to get ready for the rest of the year. The car is straight and was consistent, and we made it to the end of the 300k enduro, so I am really happy. It was great to be back, definitely good to be back, and hopefully we can get the full year in this year!"
Photos thanks to Speed Shots Photography
2022 APC DATES:
Round one – Sydney Motorsport Park – May 27-29 – two x 30-minute races, 1 x 300km race
Round two – Phillip Island – June 25-26 – four x one-hour races
Round three – Queensland Raceway – August 5-7 – two x 30-minute races, 1 x 300km race
Round four – Tailem Bend – October 21-23 – four x one-hour races
Round five – Mount Panorama – November 11-13 – four x 30-minute races