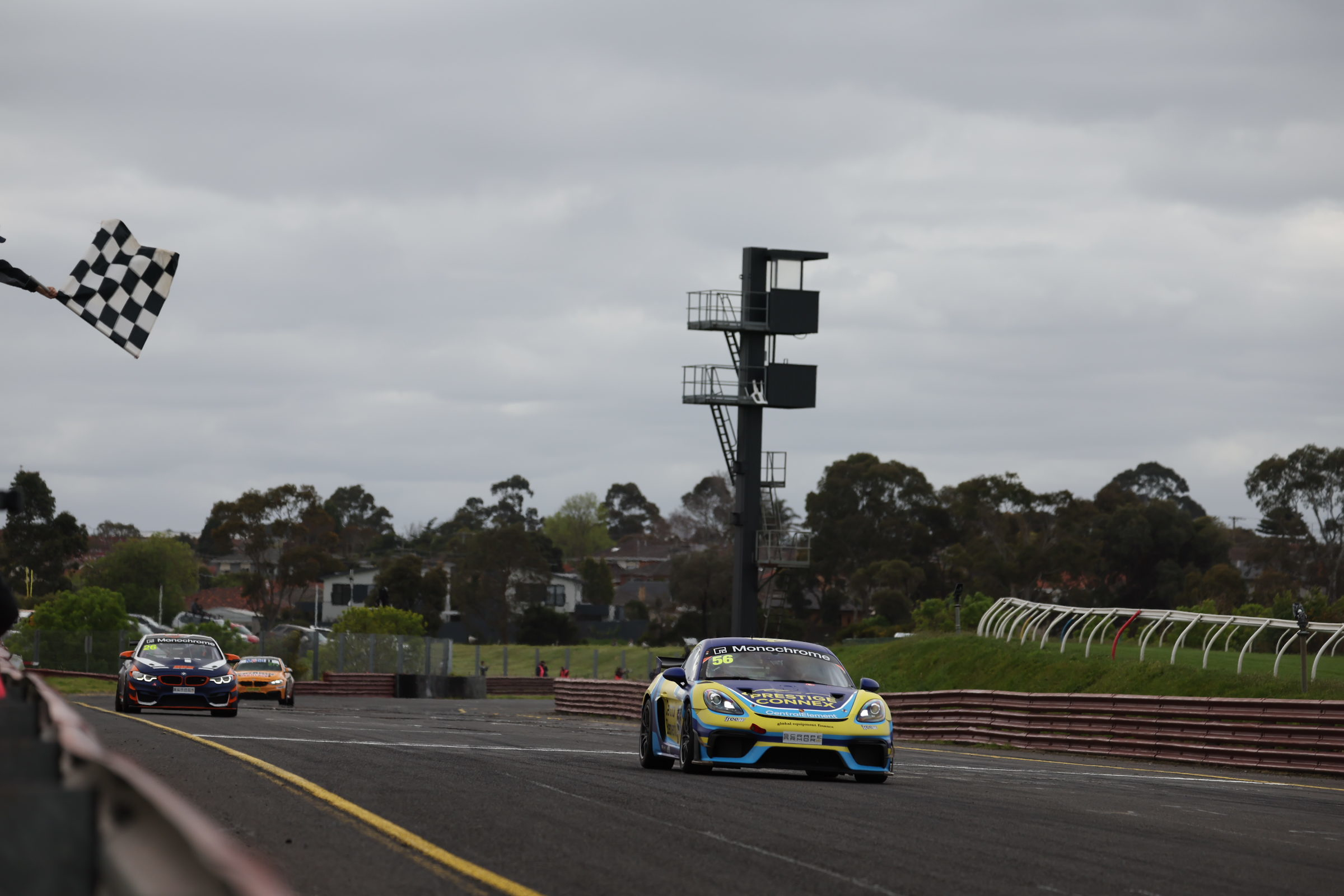 10 Sep

SHANE SMOLLEN SWEEPS SANDOWN

After taking four race wins from four starts at Sandown Raceway, there is no doubting that championship leader Shane Smollen is happy with how round four of the Monochrome GT4 Australia season has played out this weekend.

After winning races one and two yesterday (click here for the Saturday wrap-up), Smollen continued his dominant form today in races three and four, leading both races from lights to flag in the #56 Prestige Connex Porsche Cayman 718.

The cumulative results of the weekend saw Smollen take out the round win, with Steve Jukes taking second in the #26 Verve Racing BMW M4 and Mark Griffith third in the #19 Daimler Trucks Brisbane Mercedes AMG GT.

In the morning race in particular Smollen was unstoppable, setting a comfortable 5.5-second margin over eventual second-place-getter Jukes, ultimately stretching the gap out to 17 seconds before the checkered flag fell.

Monochrome GT4 Australia newcomer Jacob Lawrence (#32 Randall Industries BMW F82 M4) secured his best-ever category finish in race three, rounding out the podium in third place on debut, while fourth place went to Griffith.

Having fixed damage to the #40 Monochrome GT4 Australia McLaren 570S sustained in race one yesterday, which saw him unable to start race two, Karl Begg lined up for race three from the rear of the grid and meticulously made his way through the pack, finally crossing the line in fifth place.

Race four wasn't quite so easy for Smollen, with Begg applying heavy pressure for most of the race. In what looked to be a triumphant return from struggles earlier in the weekend, Begg quickly made up five places before turn 1 in the opening lap until an unforced error mirroring that of Smollen the day before in the dying laps saw him drop two wheels off the track, causing him to spin and tumble down the order, recovering to come home in 4th.

Griffith meanwhile ran enjoyed another clean and trouble-free race, rounding out the race four podium.

For Lawrence, trouble struck late, when with only minutes left on the clock he found himself bogged in the gravel after tagging the rear of a Mobil 1 Australian Production Cars racer (Monochrome GT4 Australia and Mobil 1 Australian Production Cars share a grid this year) sending both cars spinning and resulting in a DNF for Lawrence.

"The pressure was on, of course you want to keep the run going," Smollen said.

"It is just corner by corner; it is so critical to not get in front of yourself.

"I can trust the car, it is made by the right people, and I have the right people behind me with Aaron and Autohaus Hamilton, and a big thank you to Prestige Connex, Central Element and to my team.

"You just have to stay in the moment and stay focused. We know if we execute corner by corner, it is unlikely we are going to be passed, it is only when you get flustered that a mistake happens, so we made sure that didn't happen – we had one little mistake for the weekend, which we managed to compensate for right on the last lap.

"Other than that, it has been a really smooth weekend."

The 2023 Monochrome GT4 Australia season continues with round five at The Bend Motorsport Park across October 13-15 with four x 1 hour endurance races alongside Mobil 1 Australian Production Cars. Entries are open now at www.ausprodcars.com.au

For further information about Monochrome GT4 Australia and Mobil 1 Australian Production Cars, please contact admin@ausprodcars.com.au or visit www.ausprodcars.com.au.