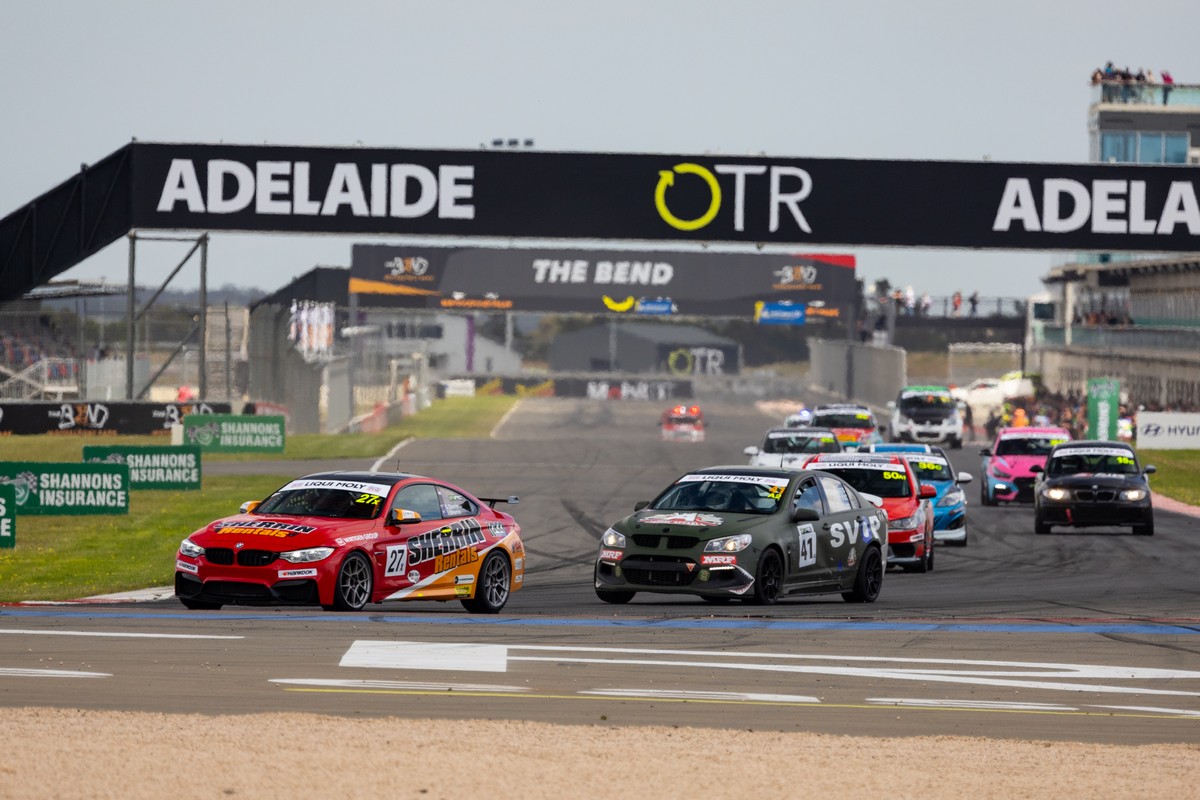 09 Nov

SHERRINS SHOWING SPEED AHEAD OF SEASON FINALE

Reigning and three-time Australian Production Cars brought to you by LIQUI MOLY outright champions, Grant and Iain Sherrin of Sherrin Racing, are heading to this weekend's 2022 season finale ready to put their newfound speed to good use on the hallowed grounds of Mount Panorama.

The 2022 season has unexpectedly turned into a redevelopment year for the #27 Sherrin Rentals BMW M4, however that hasn't stopped Sherrin Racing from being in the running for the outright and Class X championships as the category heads to the Bathurst International for its final races of the year across November 11-13.

Heading to the finale, the Sherrins are fourth in the outright standings on 287 points behind fellow X class racers Wayne, Drew and Aaren Russell (415), A2's Chris Lillis (303 points) and A1's Jimmy Vernon (291).

With 144 points on offer across four x 30-minute races, the outright championship fight could go down to the wire with each member of the top four mathematically still a chance to take out the big trophy.

"We are feeling confident, especially coming out of the last round at The Bend Motorsport Park where we were leading two races and looking like winning until we had tyre issues," Iain Sherrin said.

"Winning the outright and Class X championship is a bit of a long shot outside of something drastic happening to the Russells which I can't really see happening. But having said that, it is Bathurst, so anything could happen!

"Our chances of getting on the podium are pretty good however, considering we are only 16 points away from Lillis (currently second place) and four points away from Vernon (third place).

"The whole season has really been a rebuild and redevelop kind of year for us. Our car is the first X car that was built and after the Bathurst Six Hour, we did a full refresh on it because of some issues we were having, which we had been hoping to put off until the end of this season.

"We had to fit it in instead between the Six Hour and the opening round of the APC at Sydney Motorsport Park, and so the whole year has had a big redevelopment focus and switching from the MRF Tyre to the Dunlops and then the Hankooks has also been another learning curve again from which we have probably suffered somewhat.

"But now, we feel like we are really on-song. The car is performing extremely well, and our speed is really good – our performances at The Bend proved that – and taking that into Bathurst means we can be pretty confident that we will be in the top three cars all weekend."

"This year if we are able to take the title out it would be such a massive achievement, given we have been spending so much time on development," Grant Sherrin added.

"Any time you can be in the mix for an outright or class title is really a big achievement, and it is getting harder and harder to do as the years go on.

"It would definitely be a big thing for the entire team, and we of course would like to achieve it, particularly as the category progresses.

"We won outright in 2015, 2017 and 2019, so we are kind of due given (excluding COVID) we have been winning every two years," he grinned.
With plenty of success on the Mountain already under their belts, including wins in the 2018 Bathurst 6 Hour and the 2007 Bathurst 12 Hour as well as podium placings in class in the 2021, 2019 and 2015 Six Hour races, the Sherrins are understandably excited about the finale taking place in Bathurst.
"I think it is awesome to be finishing the season at Mount Panorama. It gives us another race at Bathurst, and will help with the set up for the upcoming Bathurst Six Hour next year also," Grant said.
"Iain and I are pretty confident there; we have done plenty of laps and given how the car has come along in the last two rounds we are feeling very confident – pending that it doesn't rain as our car does not like rain and neither do the drivers!" he laughed.
"No matter what happens, we have to thank our crew for all of their hard work and dedication, especially our lead mechanic Stuart Bell who does a great job of looking after the cars and setting the car up."
As the 2022 season wraps up, plans are already advancing for next year's 2023 Australian Production Cars brought to you by LIQUI MOLY campaign for many of the teams, and the Sherrins are no different.
"We have loved seeing how the category is growing and after being heavily involved with the category for six years, it is great to see that Troy Williams and Karl Begg are taking it forward to even bigger and better things," said Iain, who was the previous category manager for the APC before handing over to Williams in 2022.
"We will definitely be back for 2023 and we have some big plans in the works, so stay tuned for more details on that!"
The fifth and final round of the 2022 APC brought to you by LIQUI MOLY season will be held at the Bathurst International event at Mount Panorama across November 11-13, featuring four x 30-minute races. For more information, visit www.ausprodcars.com.au or contact Troy Williams on troy@ausprodcars.com.au