27 Apr
SMOLLEN READY FOR NEW GT4 AUSTRALIA CHALLENGE
Decorated production car and GT racer, Shane Smollen, has signed on for the complete Monochrome GT4 Australia season – starting with the upcoming season opener alongside the Mobil 1 Australian Production Cars (APC) at Phillip Island (May 12-14).
Smollen – who has most recently been competing in the APC aboard a Class X BMW F892 M4 – has a long list of accolades to his name. Amongst his many achievements are the 2015 Porsche Carrera Cup Pro Am Championship, the 2010 Australian GT Challenge Championship, the 2021 Bathurst 6 Hour outright victory alongside Shane van Gisbergen and multiple race and round wins in the APC.
Now, the Byron Bay based racer is turning his full attention to the new Monochrome GT4 Australia series which in 2023 is running alongside the Mobil 1 APC ahead of moving to standalone status in 2024 – something Smollen is particularly excited about.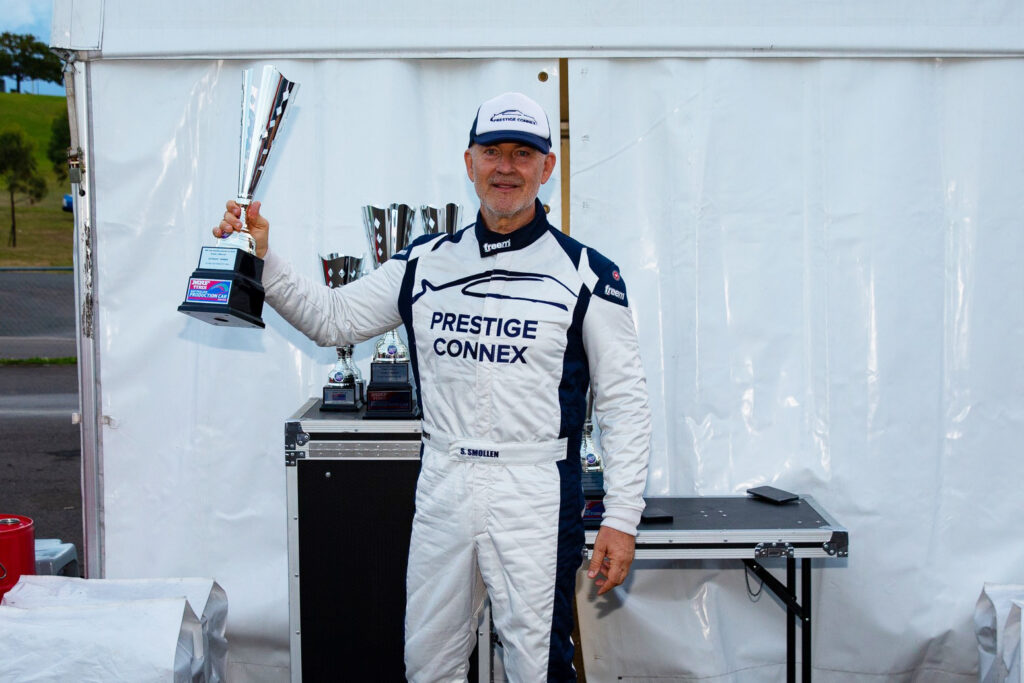 "There are a few factors in making the switch," explained Smollen, who will field the #56 Central Element 2023 Porsche Cayman 718 as part of a 28-strong grid including seven Monochrome GT4 Australia competitors at Phillip Island.
"I was keen for the opportunity to return to the Porsche brand, which I raced throughout eight seasons in both Australian GT and Carrera Cup.
"It is an awesome bit of machinery and I have had a great experience with factory-built Porsche cars. Obviously it will be a well-resolved race car and it is already performing well in the series internationally.
"It is also a bit of a natural evolution, with APC expanding to include these cars ahead of the standalone series next year.
"I like the production car format but I am also excited to return next year to a slick tyre with a dedicated wet tyre. I also like the combination of the longer races and the sprint races and have the choice in all events to race solo or alongside a co driver.
"It is a global series, so that appeals also, as it allows competitors to be a part of something that is worldwide and you could potentially put your toe in the water internationally if you chose to. It also provides confidence that the balance of performance will be well resolved.
"The cars have a ready resale market, which is always helpful. And it is just a great opportunity to get back into a factory-built Porsche race car without the level of commitment involved in going back to Carrera Cup.
"I have always enjoyed same make racing too, and while this is not exactly that, with the balance of performance (BOP) it really does allow an opportunity for drivers to race on an even and controlled basis.
"Really there is a whole bunch of reasons, but mostly, it is a new challenge.
"I don't have a lot of recent race laps as I had to pull out of the Bathurst 6 Hour following a total knee replacement in February, but I am ready to race now, and I can't wait."
While looking ahead to the full season, Smollen says he will certainly be keen to chase the championship, but for the first round he will be taking a measured approach.
"Due to the late delivery of the car there will be little opportunity for me to test ahead of round one, so I will be trusting Porsche's great engineering and workmanship, as I won't have a lot of laps under my belt when we hit Phillip Island in May," he said.
"The GT4RS Cayman as a road car is a 'halo' car and I have no reason to think the race car will be any less than that. Despite the fact that the BOP doesn't let it perform to its complete limit, it will be an absolute race car and shares it's engine with the 992 Cup Car.
"It will be a very balanced car, so I am not expecting that it is going to do anything that is going to be a great surprise but of course we will need time to extract the best from the car.
"It will just be a matter of getting in and learning how to get the best out of the car; but coming back from a major operation and this being my first meeting since last year, I am not going to be putting too much pressure on myself.
"At the end of the day of course you want to get out there and try your best. I didn't want to miss the opportunity to return to Phillip Island. It is a magnificent track and holds great memories, having won rounds of Carrera Cup there outright alongside Nick Percat and David Wall.
"Looking ahead to the full season, of course when there is a championship to be competed for you give it your best and that is what we will be doing, but what is really most important to me at this stage is to really understand the car and be in the best shape possible to enter the standalone series next year."
While the 2023 season is just beginning, Smollen already expects great things for the category in 2024.
"I expect it to be a very well supported series across a wide range of manufacturers and a high standard of essentially amateur drivers," he said.
Smollen will be bringing an experienced crew with him as part of his 2023 campaign.
"Aaron Reed who built and successfully ran our BWM M4 production car will be heading up our team, and also returning will be Porsche expert and the principal of Autohaus Hamilton, Grant Geelan, who supported me through multiple Cup Car campaigns up to 2014," Smollen said.
"Grant left circuit racing to focus on the growth of his business which he has done exceedingly well. Now he has the bug again to get back involved and it is great to have him on board as he has a deep wealth of knowledge," he concluded, while thanking sponsors Prestige Connex, Central Element Property Development and Autohaus Hamilton for their support.
Last minute entries for the 2023 Mobil 1 Australian Production Cars and 2023 Monochrome GT4 Australia seasons are available now. For entry forms, go to https://ausprodcars.com.au/entry-form/
For further information about Monochrome GT4 Australia and Mobil 1 Australian Production Cars, contact Troy Williams on troy@ausprodcars.com.au or 0483 035 466 or visit www.ausprodcars.com.au
2023 APC/GT4 AUSTRALIA CALENDAR:
Round one – Phillip Island – 12-14 May – Sprint (4 x 30 minutes)
Round two – Sydney Motorsport Park – 16-18 June – Enduro
Round three – Queensland Raceway – 11-13 August – Enduro
Round four – Sandown International Raceway – 8-10 September – Sprint (4 x 30 minutes)
Round five – The Bend Motorsport Park – 13-15 October – Enduro (4 x 1 hour)
Round six – Bathurst International – 10-12 November – Sprint (4 x 30 minutes