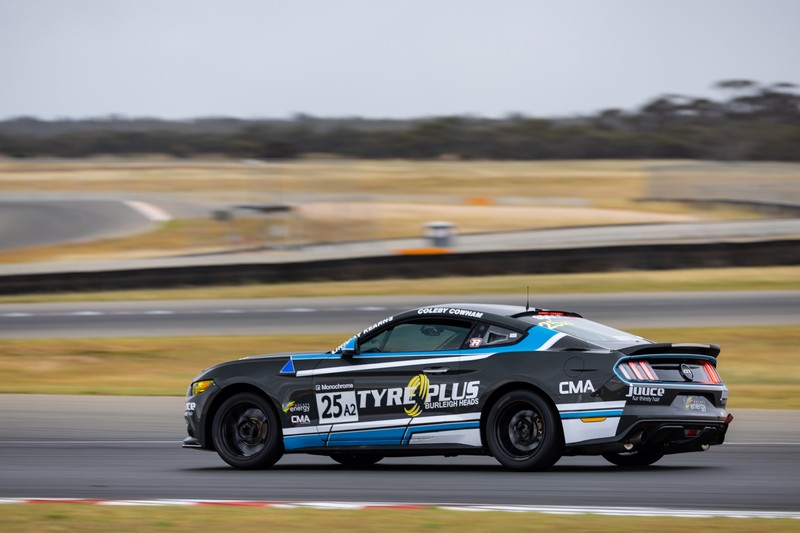 08 Nov

TITLE BATTLES SET TO BLAZE AT MOUNT PANORAMA FOR MOBIL 1 APC

Heading into the 2023 Mobil 1 Australian Production Cars season finale at this weekend's Bathurst International, there is still a lot to play for in the championship stakes following five exciting rounds of racing across the year.

In the outright championship in particular, it will all be decided on the track across four x 30-minute races across November 10-12 – just 33 points separate first and second and 68 points cover the top three, with a maximum of 146 points on offer.

"After a huge year where we have raced all over the country, we are so excited to see our title fight come right down to the wire at Mount Panorama," said Troy Williams, GM of Production Car Racing Pty Ltd, the category manager for Mobil 1 Australian Production Cars and also Monochrome GT4 Australia.

"A packed grid will fight it out over four x 30-minute races this weekend for outright, class and event honours in what is set to be a fitting finale following a highly competitive year, and we can't wait to see who lifts the trophies come Sunday afternoon."

After trailing in second all year, Coleby Cowham and Lindsay Kearns (#25 TyrePlus Burleigh Ford Mustang) overtook Iain Sherrin (#72 Sherrin Rentals BMW M4) for the outright lead at the penultimate round of the season at The Bend Motorsport Park across October 13-15, and now lead him by 33 points to the Mountain.

In third place and just 68 points away from the lead and 35 points adrift of second place is another Sherrin: Iain's younger brother, Grant Sherrin, in the #27 Sherrin Rentals BWM M4.

With the Sherrin brothers having already claimed three outright championships between them as co-drivers (2015, 2017, 2019), this is the first year they are driving in the series in separate entries for the Sherrin Racing team.

While of course their first priority will be on beating Cowham and Kearns to bring home a fourth outright title for the team, a secondary priority is sure to focus on who comes out on top between the two brothers.

Cowham and Kearns meanwhile have come close to the APC title before but are yet to claim their maiden outright championship and will be anxious to do so this weekend.

Heading into the weekend with a small buffer in the points, they are best placed to do so. However, with four races – each with 36 points on offer for a win (plus two points for qualifying on pole position) – anything could happen across November 10-12.

There are also the championships within the championship to consider, with the outright Enduro Cup already won when it concluded at The Bend by Cowham/Kearns ahead of Iain Sherrin and Grant Sherrin, however the Sprint Cup won't be decided until the close of the Bathurst International, with Grant Sherrin currently leading those standings (274 points) to Iain (219) and Cowham/Kearns (201).

When it comes to the class standings, several battles for the win and the podium placings are still up for grabs.

In Class X, Iain Sherrin has a sizeable but not insurmountable lead over Grant Sherrin (630 points to 567) and has wrapped up the Enduro Championship for the class. Grant meanwhile leads the Sprint Standings in class, 287 points to Iain's 249, and will be looking to do all he can to improve his class title standings across the four races.

In A1, Dean Campbell and Cameron Crick (#118 DA Campbell Transport Mitsubishi Evo X) lead the way on 488 points ahead of Hadrian Morrall and Tyler Mecklem, who remain in touch on 417 points in their #9 Parramatta Vehicle Services Mitsubishi Evo X while also being under threat from third-placed Paul Buccini (#71 Team Buccini Racing BMW M140i), who is only three points shy of the yellow Evo on 414 points.

Crick and Campbell also lead the way in the A1 Sprint Cup with a strong buffer on 282 points ahead of Mecklem/Morrall (184) and Buccini (160), while Buccini claimed the Enduro Cup win at The Bend (254 points) ahead of Mecklem/Morrall (233) and Justin Anthony (218 points – co-driver of (#71 Team Buccini Racing BMW M140i at select events).

In A2, Cowham and Kearns have the overall class title and the Enduro Cup sewn right up on 687 and 436 points respectively and are also leading the Sprint Cup enduro by a strong (but not unbeatable) margin. The battle for the podium placings is set to rage at Mount Panorama though, with Anthony Levitt currently second on 341 points in the #16 AMG Spares Mercedes C63 AMG, just 17 points ahead of Brian Callaghan (#37 Callaghan Concrete Pumps Holden VY GTS – 324 points).

Meanwhile, Scott Turner and Rob Rubis (B1), Chris Holdt (B2 – #51 Lithostone Surfaces HSV Commodore), Chris Gunther and Mitch Randall (C – #15 Wahlstrom Financial Services BMW 130i), and Liam Moyse (D – #97 GenFit Toyota 86) will be looking to close out their class championship winning seasons with event victories, although for Turner and Rubis, they will be turning their hand to the A1 class for the final round of the season, piloting the #29 Fierce Racing Mercedes A45. They are sure to not have it all their way though, with plenty of great competitors set to do all they can to stop them adding to their trophy haul at the Mountain.

Also to be decided this weekend is the Meguiar's Best Presented Award winner. At each round of the 2023 season, a team has been selected as the Meguiar's Best Presented car for that event, with a sixth and final entry to be appointed as such this weekend.

So far, the cars of Amar Sharma/Daniel Natoli (#39 GTECHNIQ/LME Care Audi TTRS Plus), Allan Jarvis (#70 TOA57D Motorsport VW Polo GTi), Grant Sherrin (#27 Sherrin Rentals BMW M4), Dean Cambell/Cameron Crick (#118 DA Campbell Transport Mitsubishi Evo X), and Michael Stillwell (#7 Stillwell Family Racing Mustang Mach 1) have all been recognised in this way.

Those Best Presented vehicles which are on-site at the finale will be judged as a group by Meguiar's representatives, with the winning car of that judging to be announced as the Meguiar's Best Presented Award Winner for the year, receiving a grand prize made up of $1500 worth of high-quality Meguiar's car care products.

This weekend's season-ending event marks the final time that Mobil 1 Australian Production Cars will share their grid with Monochrome GT4 Australia, with the GT competition moving to a standalone grid in 2024. Together, they will field 44 entries at the Bathurst International for a fitting conclusion to a highly competitive championship season for both categories.

For further information Mobil 1 Australian Production Cars and Monochrome GT4 Australia and, please contact admin@ausprodcars.com.au or visit www.ausprodcars.com.au.