11 Apr
BATHURST THE PERFECT START TO 2023 FOR APC/GT4 AUSTRALIA
Following three non-championship 40-minute sprint races for the Australian Production Cars and Monochrome GT4 Australia fields at the weekend, the stage has been well and truly set for a fantastic championship season for both categories ahead, kicking off in May at the Phillip Island Grand Prix Circuit.
As part of the Bathurst 6 Hour, the APC and GT4 Australia racers laid down their first competitive laps of 2023, with these laps particularly special for Monochrome GT4 Australia as the official debut for the category.
When all was said and done, it was Karl Begg (GT4 – #40 Monochrome GT4 Australia Mercedes AMG GT), Grant and Iain Sherrin (APC outright and Class X – #27 Sherrin Rentals BMW M4), Chris Sutton (Class A1 – 321 MotoFit Lancer Evo IX), Cary Morsink (Class A2 – #71 More Driven Cloud Hosting HSV GTO Coupe), Chris Begg (Class B2 – #15 MotorsportSales.com BMW E92 M3, Tom Needham (Class C – #3 All Carbitz Mazda 3 MPS), Oliver Loiacono (Class D – #140 Forklogic Toyota 86) and Brock Stinson (Class I – #31 AGM Engineering/Manvel Performance Toyota 86) who took out the round honours.
Begg shared the GT4 Australia round podium with runner-up Tony Quinn (#101 Queensland Raceways 718 Porsche Cayman) and third placed Mark Griffith (#19 Daimler Trucks Brisbane Mercedes AMG GT).
On the APC outright podium, Grant and Iain Sherrin were joined by Class A1 winner Chris Sutton and Class A2 winner, Cary Morsink.
Following two races on the Saturday of the event (click here for a wrap-up of how those races unfolded), Sunday hosted one final 40-minute sprint to round out the APC/Monochrome GT4 Australia racing for the weekend.
In sunny conditions, Karl Begg backed up his race two win with victory, crossing the line 1st outright and in GT4 Australia ahead of race one winner, Tony Quinn, while Mark Griffith managed to secure P3 outright and in GT4 Australia after a move on APC racer Grant Sherrin on the penultimate lap.
While the front two runners eventually opened up sizeable gaps from each other and the rest of the field, the opening laps were especially frenetic, with multiple changes for the lead and position between Begg, Quinn and Sherrin across the first two laps which had Stan Sport and trackside viewers on the edge of their seats.
Grant Denyer in the #55 Supercheap Auto Make It Super Ginetta, while being on-track for the formation lap, was unable to take part in the race and pulled into the pits before the race start.
Meanwhile, the Sherrin Racing entry completed a APC clean-sweep for the weekend with the APC outright and Class X victory in race three.
Following the intensity of the opening laps, Grant Sherrin would eventually settle into P3 after having earlier held P1 and P2, before aging tyres saw him forced to yield to Griffith on the penultimate lap for P4 on the road while retaining the APC outright and class X win for the race, and also for the round, with Beric Lynton – unable to race on Sunday due to a broken diff in the #23 Bruce Lynton Service F80 M3 – taking home second for the round in class X.
Next on the road was Sutton, who claimed his third A1 victory of the weekend from 5th on the road to secure the round Class A1 win ahead of runner-up Robert Braune (#186 Westvic Earthmoving BMW M135) and third-placed Michael Osmond (#17 Ozzy Outhouse Hire BMW 135i).
Sixth outright on the combined results and putting in an impressive run was Trevor Symonds in the #666 Wollongong Auto Parts Holden VE GTS, who claimed the A2 race three victory after climbing 11 spots after starting from the back of the grid due to his race two DNF, giving him the points needed to secure 2nd of the round in Class A2 behind Morsink.
Symonds crossed the line ahead of Morsink and Class C winner Needham (8th outright) – another racer to do the class win three-peat this weekend to claim the Class C round win ahead of Carl Climan (#8 Outback Bakery Cootamundra/100 Percent Automotive VW MK7 GTI Golf) and Michael Sloss (#74 Syntec Mini R56 JCW).
Class B2 winner Chris Begg (9th outright) and the D class winning Liam Moyse (#97 JIC/Butler Vehicles Toyota 86) rounded out the top 10 on the road, with Moyse winning an intense race-long battle with fellow D class contender Loiacono who was ultimately forced to settle for second in class and 11th on the road ahead of 3rd in class D, the #61 TME Motorsport Ford Fiesta ST of Tim Weston. Loiacono's earlier performances across the weekend however were enough to see him secure the Class D round win ahead of Weston and Moyse.
The I Class victory for the race and the round went to Brock Stinson, crossing the line 13th outright in front of Thomas Davies in the #42 Toyota 86, who was second in class I for the race and the round, and 14th outright on Sunday.
Rounding out the finishers was Sloss (2nd in class C) and Climan (3rd in class C) from 15th and 16th outright.
Braune and Osmond were unable to take part in today's racing, with Osmond not starting following yesterday's damage and Braune electing to head back to the pits at the end of the formation lap.
The Australian Production Cars and Monochrome GT4 Australia competitors now turn their attentions towards preparing for their 2023 championship season opener at the Phillip Island Grand Prix Circuit across May 12-14, for which entries are open now – for entry forms, go to https://ausprodcars.com.au/entry-form/
For further information about the Monochrome GT4 Australia and Australian Production Cars and championships, contact Troy Williams on troy@ausprodcars.com.au or 0483 035 466.
QUOTEBOARD: APC/MONOCHROME GT4 AUSTRALIA AT BATHURST 6 HOUR
Monochrome GT4 Australia round winner – Karl Begg – #40 Monochrome GT4 Australia Mercedes AMG GT
"It was really good to have the battles between APC Class X and GT4 Cars – plus also seeing the two Mercedes and the Porsche GT4s all fairly evenly matched. Our traditional front running class X cars in APC remained front running contenders and the GT4s have their work cut out to get ahead! It was a great weekend, and it was great to mix it up a bit – I got swamped in race three and ended up fourth on the first lap so I had to work my way back through and it was great – Quinny and I each used only one set of tyres all weekend too! It was all good, fair and clean racing across the whole field, and I am very excited for our championship seasons coming up. I will be racing the Mercedes at Phillip Island and am also working on getting my BMW M4 sorted so someone can race that in the APC. Overall, I am really looking forward to the year ahead – we got heaps of attention this weekend, a lot of people saw the coverage and are really keen to get involved. I think we showed everyone what a great mixed field this is, and the potential in Australia for GT4 cars."
Australian Production Cars outright and Class X round winner – Grant Sherrin and Iain Sherrin – #27 Sherrin Rentals BMW M4
Grant Sherrin
"It was a good weekend. It was a brand-new car for us, we had done just the one test day before coming down and it wasn't really until after that test day and all went well there that we decided to throw it in and see how we would go (in the sprint races). The build was really good on it and the car went really well. We had it on Hankooks and Iain and I shared the driving, and the car just feels really good, it is very promising for the year ahead. It was good too to be mixing it up with the GT4 cars and stir them up a bit. On the long straights we had the legs on them, but they would get us over the top. But it was good battling and everyone gave good room and it was really enjoyable door-to-door racing without any stupidity, it was really great."
Iain Sherrin
"We were really happy with the sprint racing, the brand-new car felt awesome, and the pace was really good. It was really good to have this hit out and it sets us up well for a good season in the Australian Production Cars and I think the outcome was exactly what we wanted ahead of the championship season start."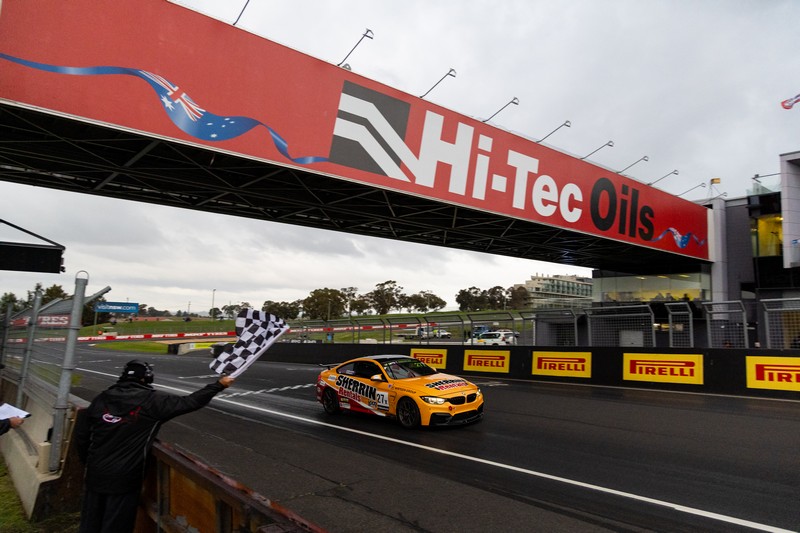 APC Class A1 round winner – Chris Sutton – #321 MotoFit Lancer Evo IX
"The weekend didn't start out that great with the inclement weather playing havoc so my qualifying was garbage, which saw us mid-field at the start. But I just picked my way through and kept moving forward. The development we have done on our little car has worked a treat and we found some pace and had a good meeting. I actually set the fastest lap time for us on the very last lap of the last race, so we were definitely getting there. It was a good feeling too to drive past Grant Denyer on Mountain Straight!" Sutton laughed. "The meeting ran a treat, and we got plenty of laps in which great, and I am really happy. The driving standards of everyone was really good also and that was really nice. Overall, I am really happy."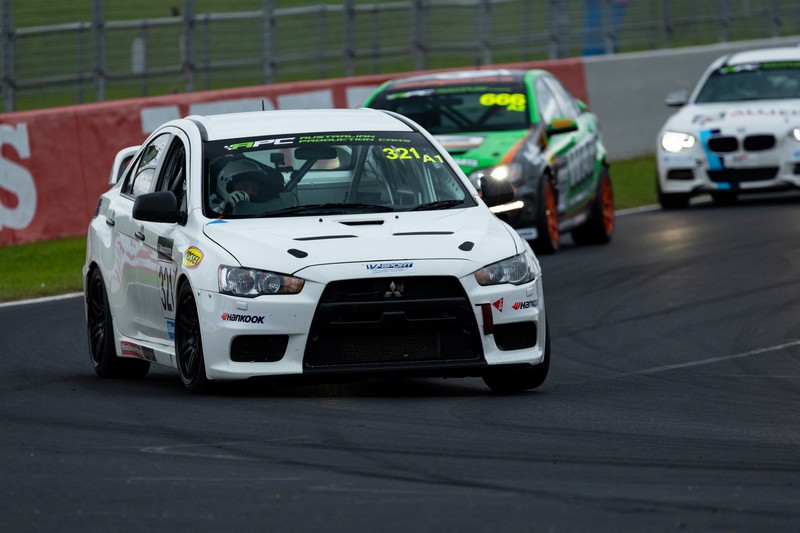 APC Class A2 round winner – Cary Morsink – #71 More Driven Cloud Hosting HSV GTO Coupe
"There were tricky weather conditions all weekend and we started off slow in practice, but I did okay in qualifying and picked up the pace a bit. It was still a bit greasy, but with each race it got better. I think in the end it came down to consistency as far as getting through for the class win, as Symonds in particular had a DNF in the second race. So, I think it was purely based on consistency rather than outright pace, but the car was good and consistent, and it was good to get a result and have a nice and clean weekend. I had a lot of fun. Thank you to APC and the organisers for a good, clean and fun racing weekend.
APC Class B2 round winner – Chris Begg – #15 MotorsportSales.com BMW E92 M3
"The weekend was great for me. Up until recently, I have had an unreliable car, but we had an absolute dream run this weekend with no problems at all. I wasn't a fan of the wet track, but once we were over that we were all good. We had quite real success in the races, and I was able to move up and I also ran the best time I have ever done at Bathurst by about eight seconds, so it was definitely a good weekend and well run too.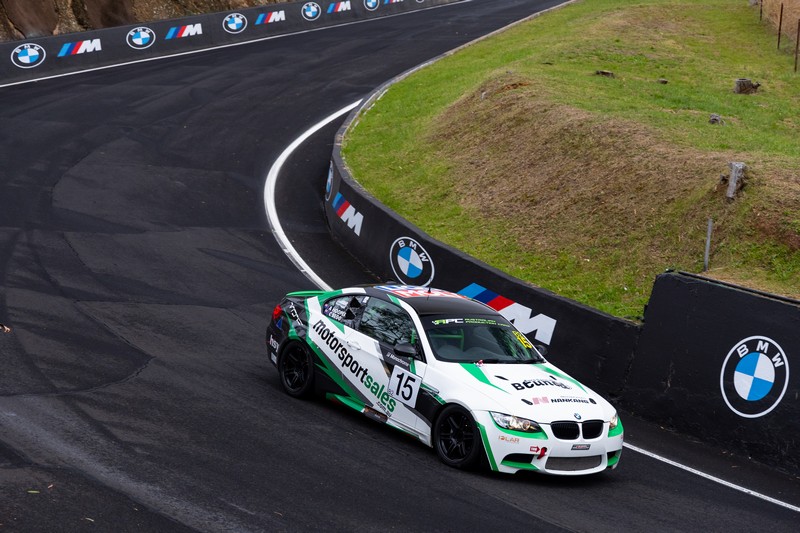 APC Class C round winner – Tom Needham – #3 All Carbitz Mazda 3MPS
"I feel pretty good about how my family and I prepped the car for the weekend, considering especially that myself and Dane, the second engine builder at GRM where I work who came up with me, did all the service work on Thursday before taking it out on the track on Friday. The car stays in Queensland and I live in Melbourne, so we had to get the car down here with mum and dad and then it get it prepped which was a bit of a mission. But with the results we came away with on the weekend, we are really stoked. It was pretty competitive racing across all the classes, and our car was quite pointy up the front racing against B2 and even A1 cars, which was actually a bit of a shock considering we had never taken this car to Bathurst before so we had mixed feelings on if the set-up would be okay for the track and it actually turned out to be really, really fast, especially across the top. To be able to hang with some of the front cars in positions four to six I think was actually quite impressive for a small family team. The event ran really well too, it was very well organised."
APC Class D round winner – Oliver Loiacono – #140 Forklogic Toyota 86
"I came into the weekend not really knowing what to expect about Bathurst and it was a bit of a surprise (how we went), I didn't really know the car would perform like that. It was good close racing with the boys in class D and also class C even, and overall I was quite impressed with the car and also my driving around the Mountain. I am very happy with the win and am looking forward to more APC racing coming up. My younger brother Liam will be joining me at the enduro events and we are looking forward to going to Phillip Island. I am hooked now I think, I want more of it!"
APC Class I round winner – Brock Stinson – #31 AGM Engineering/Manvel Performance Toyota 86
"It was a really good weekend. My first ever laps of Bathurst were done this weekend and it is just an awesome track. I was just so excited to see what it was all about, and it was everything it was cracked up to be. So, it was really great, and I am really happy to walk away with the win, it was really cool. I am definitely keen to come back (for more APC racing) – it was super professionally run and with heaps of track time, and I can't thank the APC guys enough for having us out there."
Stinson was also part of the Bathurst 6 Hour outright winning team's efforts as a crew member.
"The weekend definitely exceeded my expectations. I think I have had the best three days of my life getting to drive around Bathurst and be a part of it all, it has been awesome."
2023 APC/GT4 AUSTRALIA CHAMPIONSHIP CALENDAR:
Round one – Phillip Island – 12-14 May – Sprint (4 x 30 minutes)
Round two – Sydney Motorsport Park – 16-18 June – Enduro
Round three – Queensland Raceway – 11-13 August – Enduro
Round four – Sandown International Raceway – 8-10 September – Sprint (4 x 30 minutes)
Round five – The Bend Motorsport Park – 13-15 October – Enduro (4 x 1 hour)
Round six – Bathurst International – 10-12 November – Sprint (4 x 30 minutes